The last article in the 'Analyse A Real PPC Campaign' series had a look at a website called joke.co.uk which sells Halloween costumes. What we found from this was that there was a lot of competition for search phrase 'halloween costumes' and that joke.co.uk's landing page was very well designed for a number of reasons (you can find out through clicking the above link to the article). In this article, with winter well on its way, I thought I would see what campaigns would come up when I search for fireplaces. In this article, I will be analysing Chiltern Fireplaces' PPC campaign.
To view Chiltern Fireplaces' PPC search advert, I had to type into Google search UK 'fireplaces':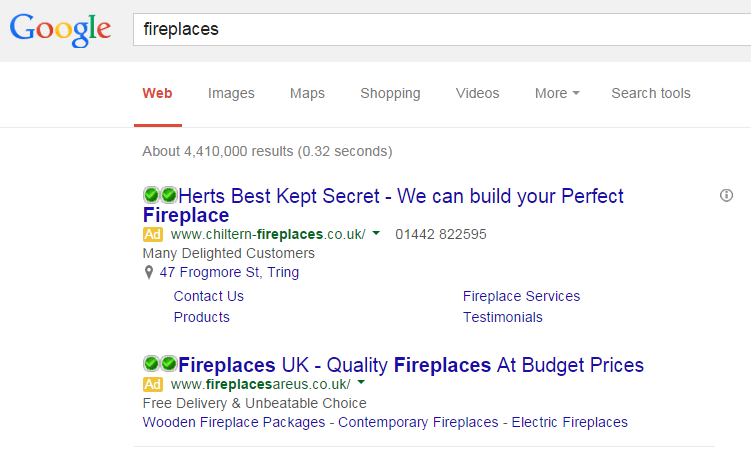 The first I notice straight away about their advert is that its location targeted. They are, what seems like, a local business that sells fireplaces so wants to use that as a way to entice the web user to use their service and buy their products.
The great thing about the advert is that they have recognised that I am local to their shop. In doing so, they have included their contact number and address so that, if I chose so, I could contact them direct or find their shop direct. What is also clever is that they do not have ad extension to display the customer rating. Instead, they decided to use the description as this by claiming to have 'Many Delighted Customers'. From doing this, they have had to includ more information in the title. A different approach to PPC but one that looks like it is going to pay off for them as this is a great advert to look at and read through.
After clicking on the above advert, I came to the following landing page:
Unfortunately, this is where it starts to go downhill for Chiltern Fireplaces as I don't personally think this is the best landing page I have seen. It is not the best optimised considering the advertising budget is probably going to be quite small considering they are a local company. Here is what I think of their page:
The page, in general, is far too dark. It needs to be lighter in colour as it seems quite depressive (which would reduce conversions).
They have no favicon for their website, which could have easily have been a fire burning.
I just don't understand the colour theming, it's black, orange and a yellow strip at the top? If it is based on colours of a fire, why is black the dominant colour and there is no red?
The content is below the fold. However, there is nothing that encourages the web user to scroll down and find the hidden content.
Of course, this is my opinion. I do think, though, that this landing page has many areas it can be improved starting with the colour coordination of the whole page.