The last PPC campaign I analysed in the 'Analyse A Real PPC Campaign' series was from Light Finance, who had both a very well designed search advert and PPC landing page. Light Finance went down the road of a very colorful landing page, to help keep the web user's attention on the landing page. The lead capture was also very intuitive, making light work of something web users might find tedious work.
One area that will gain lots of competition is with the car market, both for accessories and spare parts. With this, here is an analysis of a PPC campaign from Car Parts 4 Less.
To view Car Parts 4 Less' PPC search advert, I had to type into Google search UK, 'buy car battery':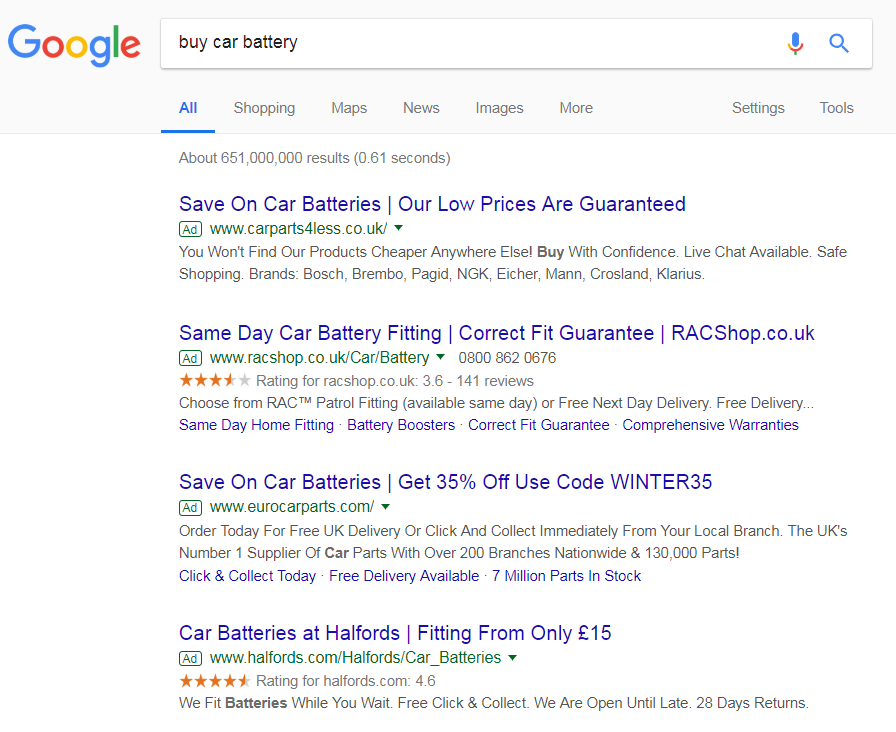 The first thing that is made clear from this is that Car Parts 4 Less have gone for an aggressive strategy. From adopting a high CPC, they have achieved the top spot ranking of paid search results, which would generally gain the highest CTR.
However, there are some areas that Car Parts 4 Less can improve on. It is clear that they have no researched competition, as the competition have quantifiable stated why they should get the web user's business, be it through mentioning cost of fittings or discount codes. Instead of going for the cheapest solution, Car Parts 4 Less have gone for an approach of stating that can provide batteries for all sorts of vehicles (listed in the description). It could work in their favor. However, their advert appears less appealing than the competition.
After clicking on the above advert, I came to the following landing page:
As a landing page goes, this is a very good lead capture/click through landing page:
The landing page can be considered a:

Click through landing page, since the Winter Sale image is a button for the web user to click onto. Including a discount code automatically makes Car Parts 4 Less look better – this is something they could have mentioned in the search advert to make their search advert appear more enticing.
Lead capture page, through the form to fill out to the left hand side. This enables the web user to find car parts for their exact model of car, helping the web user to get to the product they need sooner.

Although it is a good idea to use discount codes, we are moving into Spring as a season. Therefore, having a winter discount code is a little against the seasoning – it would be better to have a code that reflects the fact we are about to head into spring.
There is information below the fold of the page. This includes a list, with images, of all the products Car Parts 4 Less sell. This, like the form, is a way of getting the web user to see the product they want to buy as quickly as possible.