Everyone is desperately trying to get more links to their web site, as they are essentially the way into Google's heart, and the best way to get people to find out about your web site or blog. An excellent way to bring in new visitors to your site and get more people talking about YOU, is to start doing interviews on other blogging sites.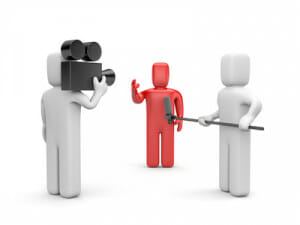 Depending on the niche you are in, there are a ton of blogs that run interviews every week/month on their blog. The internet marketing, affiliate and blogger space is very big on this feature. Here are a few excellent reasons why you should be doing interviews on other blogs.
Share your story, advice and build your brand
Blog interviews almost always contain a link back to your web site and blogs
Reaching a completely new audience, who may result in new traffic and potential business
How to Find Sites to Get Interviewed On
If you are currently a blogger or well known internet marketer, you probably won't have any issues on people trying to contact you for interviews, as many bloggers are always looking to share great stories and create new content. Make sure you include a contact form on your current site or blog, so people can easily contact you. If you would like to get more interviews, make sure to create an "Interview Me" page, which will let others know you are always looking to contribute to others blogs. If you link back to any blogs that interview you, you may even find higher quality blogs and a higher volume looking to interview you. Believe it or not, but many well known bloggers are too busy to respond to emails, let along do interviews.
In the end, it's all about providing quality content and getting more backlinks to your site and allowing more people to find out about you and your brand. If you were to only complete one interview per week, that's an extra 50+ quality backlinks and content that will keep generating traffic and exposure for you month after month.