Bing just came out with the list of most searched celebrities in the 2013 Year in Review post. While Bing isn't Google, it's still a great resource to find out what people are searching for.
For anyone who is actively in the entertainment and celebrity business, this report will provide you with some great detail on different celebrities you should be targeting and building content around. Bing broke the list down by country and sorted out the most searched celebrities around the world.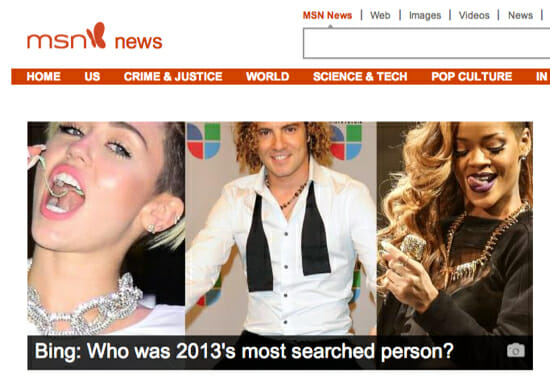 You can see a break down of the most searched celebrities in the United States below.
Beyoncé
Kim Kardashian
Rihanna 
Taylor Swift
Madonna
Justin Bieber
Nicki Minaj
Amanda Bynes
Barack Obama
This type of information isn't going to be useful for just those who are focused on search, but the list can also be of great value for anyone who is doing Facebook marketing and building out their own Ads and Pages as well. There is a wide range of celebrities listed for different countries. By targeting these personalities you will be able to rapidly expand your reach outside of the well known names most of us are familiar with in the United States.
It's always exciting to see what Google and Bing have in their year end reports, so I'm sure a few more will come out as we close out the year.