When it comes to spending money online for advertising, it can easily get crazy. It doesn't matter if you are focusing on pay per click marketing or media buying, when you are advertising on the internet there is a whole world of traffic out there… so you can quickly blow through your budget fast!
In this article I'm going to cover a few ways for you to better manage your ad campaigns while using a credit card to track and manage your ad spending in the process. I've been running my online business for over 15 years now and I've always used credit cards whenever possible.
Let's get started with some money saving tips!
Always Manage Your Budget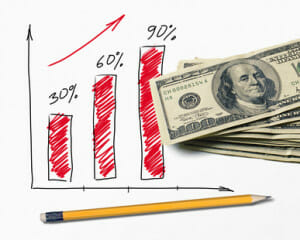 If you really want to blow through a ton of money fast, don't set any daily limits on your ad campaigns. This is something a lot of people are learning the hard way. If you are going to advertise in the search engines on a pay per click basis or through social networks, you can spend thousands of dollars in just a few hours. The best way to make sure you aren't throwing your money out the window is to set daily spending limits on your ad campaigns. Nearly all search engines, social networks and media buying companies have these features available. Don't rush to spend your ad dollars. Spread out your budget over as many days as possible as this will allow you to scale your campaign while also allowing you to test and improve your campaign results.
Use a Credit Card for Rewards
With all of the spending that happens in online advertising on a daily basis, the numbers can really add up quickly. One of the best ways to get some extra added revenue and perks from your spending is to make sure that you are setup with a business card that rewards you for your spending. Some credit cards will give you rewards points, while others will give you cash back. If you are spending just $100 a day, this adds up to $3,000 in spending each month. If you are spending more, then you could be looking at a massive bonus at the end of each month in rewards and cash back. This is just an extra added perk to spending your money wisely and increasing your return on investment.
Track and Manage All Spending Online
Lastly, no ad campaign will ever be successful if you don't spend the time to track your performance and ad spending. The same hold true for keeping an eye on your overall spending and knowing which days you are getting billed and when your outgoing payments are owed. When I log into my Visa Business card accounts I can see all of this information right from the main login page. Each month I have set days that I send payment to my card from my bank account and I can always log in and check my monthly spending and how much money is going where and when. This is crucial if you are running multiple ad campaigns with different companies as you could be dealing with a lot of money moving around in a short period of time.
Running an online business isn't for everyone, but through the use of managing your finances and using a credit card for records, the dirty work is a lot easier than it used to be. There is nothing I hated more than receiving my print statements in the mail each month and having to go through them all by hand to see what's going on. Now everything is done automatically through the internet and it's never been easier. This is just one of the many reasons why running a business on the internet is the best opportunity ever!
I am blogging on behalf of Visa Business and received compensation for my time from Visa for sharing my views in this post, but the views expressed here are solely mine, not Visa's. Visit http://facebook.com/visasmallbiz to take a look at the reinvented Facebook Page: Well Sourced by Visa Business. The Page serves as a space where small business owners can access educational resources, read success stories from other business owners, engage with peers, and find tips to help businesses run more efficiently. Every month, the Page will introduce a new theme that will focus on a topic important to a small business owner's success. For additional tips and advice, and information about Visa's small business solutions, follow @VisaSmallBiz and visit http://visa.com/business.