In the world of internet and affiliate marketing, there are countless ways to make money and promote offers. While the majority of this blog focuses on pay per click marketing, you also have other options such as media buying, paid placement, content marketing, email and newsletter advertising and much more.
The good thing about affiliate marketing is that almost all of these methods are acceptable, depending on the offer that you choose to promote.
Behave Media is a solid affiliate network is that has a decent amount of ad campaigns that you aren't seeing on many of their competitor networks. As a Behave Media affiliate you will have a wide selection of offers to choose from. You will see everything from software, dating and zip offers, all of which range in payouts. There are a over ten different offers with payouts at $100 CPA or above and some offers go up to as high as $250 per signup.
You can take a look at some of their offers below. To keep their rates competitive, I've blurred them out. You can join their network as an affiliate to access and start promoting all offers.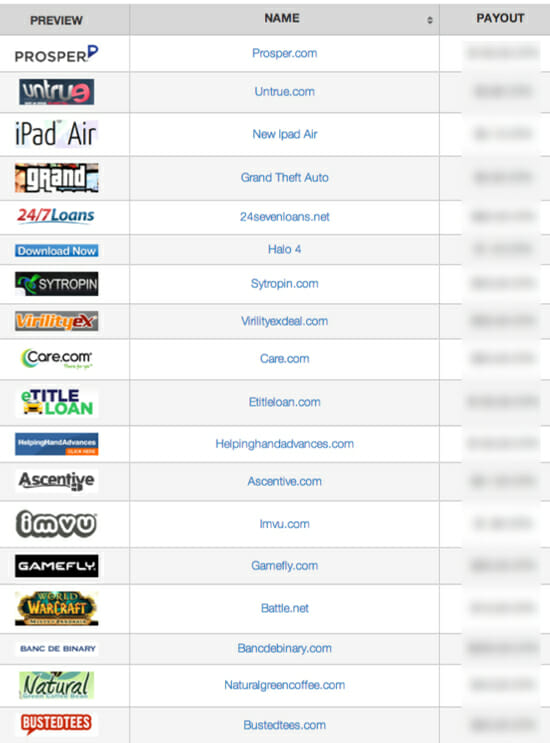 Behave Media Ads Specs
Every ad network is fighting for your business and they only way they can survive is by bringing in new affiliates who continue to push their offers. As always, ad networks work off a small margin, so they need to push a ton of volume to make money month after month.
Behave Media is run off the Has Offers advertising platform, which is good because it's one of the most used and trusted solutions out there. If you are already working with another ad network using this platform, then you will already know how to navigate through the network, setup new ad campaigns and pull stats reports.
In addition to it's network platform, Behave Media also has the following publisher terms.
Minimum Payment: $100
Payment Frequency: Net-30 • Net-25 • Net-15 • Weekly
Payment Method: Wire • Paypal • Check
Tracking Software: Has Offers
Incentive Marketing: Allowed
Each offer on the network also comes with it's own payout and promotional terms. You can see what a generic offer on the network looks like below.
Of course you should take the time to split test different offers across different demographics and advertising methods. World of Warcraft would be a great offer that could be promotion through social media advertising like Facebook Ads. If you weren't allowed to send traffic directly to the URL then you could build out a Fan Page that targets users who are interested in "Warcraft" or similar games and send them a landing page that promotes the offer.
Join BehaveMedia to Earn More
They currently have over 1,500 partner sites with exposure to over 175 million consumers and nearly 3 billion impressions monetized daily. Now is the time for you to get in on the action and see how you can improve your business and revenue by working with Behave Media.
Whether you focus on pay per click marketing, social media or creating landing pages and web sites, I recommend that you take a look at what Behave Media has to offer.