As online marketers and site owners, there is nothing we love more than analytics. Actually, the only thing we love more than analytics is the ability to get them all under one platform and not have to pay a ton of money for it in the process.
Last week I was introduced to a new tracking platform called HeatSync, and let me tell you it's pretty cool! In short, it's an all in one tracking platform that allows you to access cool stats on your portfolio of sites, such as Alexa ranking, seo, social, user demographics and much more.
Let's take a look at their site and see what they have to offer.
Right now HeatSync is currently in beta, which is good because they are offering free memberships to everyone before they go live with their premium version.
Once you are setup with an account you can start adding your sites. You will see the system start to pool all of your site' information together, which it will continually track and compare as new data comes in.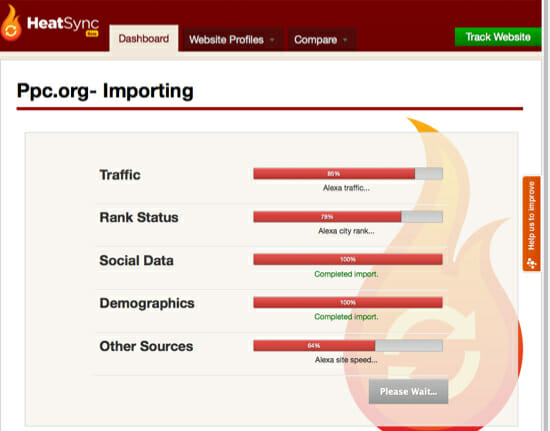 Once this is done you can start browsing around the different sections and tracking features the site as to offer.
You can see an overview of the new ppc.org profile that was setup in the system.
On the left side of the page you will see the many different reporting options that you can browse through.
Some of the the tracking features will only display data once your site has been tracking for a few days, but other reports like your Alexa rank will show right away. You can see the graph below that charts the progression of Alexa over the past several days for ppc.org rankings.
As you can see, HeatSync is a very nice looking system and when it comes to all of the variables that it's tracking and for no monthly cost, there is simply nothing like it out there right now. You can setup your portfolio of sites right now and start gathering valuable information from the most popular sources such as Alexa, Compete, Facebook, and many others.
After setting your sites up in the system you will see all of your sites on the main page dashboard, which provides you with a comparison and update chart on all of the latest stats changes for your site.
I highly recommend you take a look at HeatSync and setup your free account while their site is still in beta.