Last article in the 'Analyse A Real PPC Campaign' had a look at the new and emerging market of smart watches and Pebble. What we found out from their campaign was that it is sometimes a good idea to embed a video onto the landing page since this will store lots of information about your landing page which is completely digestible to the web user without boring them as much as an image or text would. Next in the series, I will be looking at the car market and see what type of campaigns appear if I was a web user wanting to buy a car.
To start things off, I typed into Google search UK, 'buy car':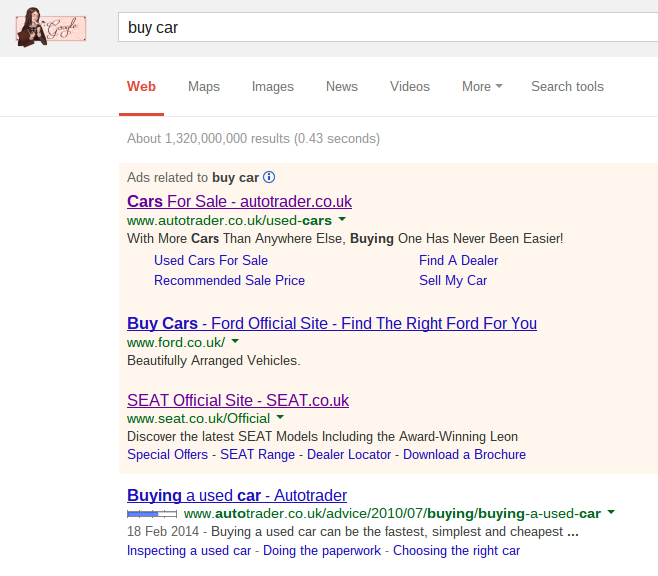 It is interesting that I was planning on analysing Seat's campaign. However, when I clicked onto the advert, the following page error came up:
This is a rookie error on behalf of Seat. ALWAYS check that your campaign is fully working otherwise you will literally be paying to get traffic to an error page where you will lose them instantly. It seems obvious but considering Seat is a worldwide car manufacturer and they if have a mistake to their landing page, it makes clear it could happen to anyone.
Instead, I will look at AutoTrader's advert. They are already ranked number one organically which makes clear that they have a campaign to gain number one spot of paid search results. The use of an exclamation mark at the end of the description injects a bit of enthusiasm into the advert which works as an effective tool to motivate the web user into clicking on the advert.
The advert is simple, to the point and packed with keywords. Sometimes, simplicity in PPC works best in gaining a higher CTR since web user's attention spans are relatively short.
After clicking on the advert, I came to the following landing page:
This landing page reminds of of Amazon's landing page. AutoTrader's website is well optimised in the sense that it has a navigation menu that can take the web user to any part of the website. This makes it clear that although 'buy car' is an extremely vague keyword to bid for, the landing page AutoTrader has is like a 'middle man' and works as a click through page. They are giving the web user many options to go into a bit more detail as to what they mean by 'buy car'.
Therefore, I do think AutoTrader's campaign is a successful one. They are gaining vague traffic but targeting them with their click through page. What I would say, though, is that they do not always have to make a PPC campaign if they are ranked organically number one already. Remember the article I did on SEO facts and stats? Around 70-80% of web users ignore the paid adverts and look down the page for the first organic search result.