As effective as pay per click and search marketing is, we continue to see the industry come up with new and creative ways to target and reach our audience. First it was mass advertising with banner ads across thousands of sites with no real targeting. Then Facebook Ads came out with the ability to really zone in on your demographic audience. Now we have retargeted advertising — which is simply being able to retarget ads to your audience once they have left your site or based off a wide variation of other trackable actions.
Here's a typical scenario of how retargeting might work with an ecommerce site.
User searches for "fancy new shoes" on Google (target customer)
The individual clicks your link in Google and visits your site (cookie is then placed)
After browsing for a bit, they decide to leave your site (time for retargeting)
As the user continues to view other sites, they start to see your ads from your site (great CTR!)
With such relevant advertising now in place, it's cheaper and more effective to secure lost leads (higher ROI)
That's a very simplistic explanation of how retargeting works, but it's actually so much more. You've probably seen plenty of retargeted advertising today and may not have even noticed it. This is very commonly seen through Facebook, as it's very simply to create retargeting and custom audience ad campaigns. Outside of Facebook, Amazon and eBay are two brands that also do retargeting very well, as you will continually see banners on other sites showing ads for what you previously searched for on Amazon or eBay.
A typical example of this can be seen below.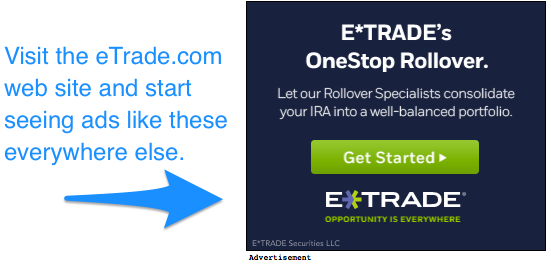 Now the question is… how can you start using this type of advertising with your business?
Retargeting Ads from an Audience vs. Marketer's Perspective
In the "10 Retargeting Ads Stats" infographic below from Wishpond, we are going to take a look at the different ways your audience might be seeing your ads versus how marketers see such ads. Knowing the difference between the two is detrimental to the overall success of your ad campaign.
Nearly three out of five U.S. online buyers said they notice ads for products they look up on other sites.
When a consumer sees an advertisement online; 30% have a positive feeling, 59% are neutral and 11% see it as a negative.
According to a ReTargeter study, clickthrough rates decrease by almost 50% after five months of running the same sets of ads.
When shopping online, 50% of people visit more than 2 sites before deciding on who and where to purchase from.
46% of search engine marketing professionals believe retargeting is the most underused online marketing technology.
10% of agencies and 9% of brands now allocate a separate budget for retargeting.
No matter what type of online business or brand you currently have, generating new leads and sales through the use of retargeting is one of the best opportunities the market has to offer today.