The last PPC campaign I analysed in the 'Analyse A Real PPC Campaign' series was from the car manufacturer Peugeot looking to promote their new 108 hatchback convertible. However, what we found with this campaign was that the advert promised a 'convertible range' but the landing page only promoted the 108 (which is not even a full convertible). Therefore, it brought the point forward that the search advert and landing page must be well tuned with each other so there is no mis-selling as you go from the search advert to the landing page. With this article, let's analyse another car company's (this time, more premium) PPC campaign. Therefore, without further ado, here is a analysis of Audi's PPC campaign.
To view Audi's PPC search advert, I had to type into Google search UK, 'audi':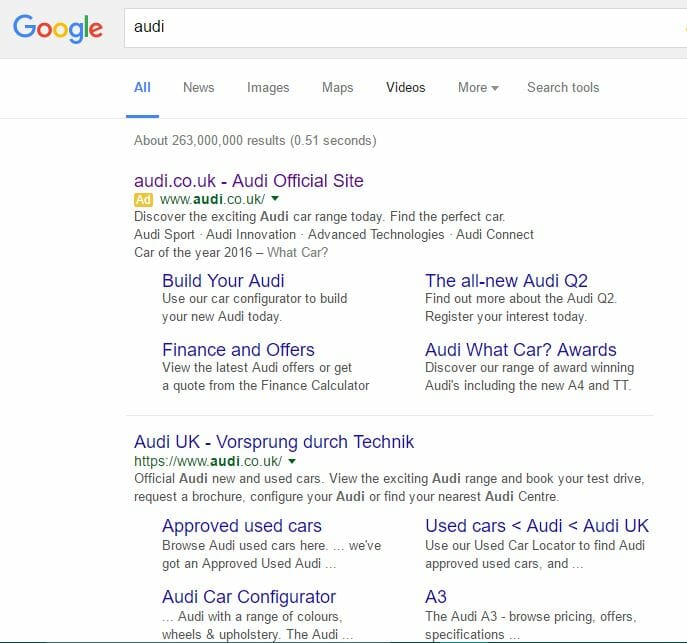 Audi have decided to bid for their own brand name which is not uncommon at all in PPC. There are a few reasons why they have done this:
To ward off competitors from bidding on it.
To display information that would not have appeared on their organic result.
The thing about the advert is that there are extra links in their organic result which makes me think that the main reason they have done this is to display links that will push the web user to different areas of Audi's website. From looking at the site link extensions, it appears Audi want to promote their newest cars, finance offers, the awards they have achieved and software to build your own Audi – all of which (except the finance offers) do not appear on organic search results. Therefore, with this in mind, the objective of Audi is to show the web user a broader and more up to date range of links to their website which they have successfully done.
After clicking on the above advert's title, I came to the following landing page:
With Audi being a premium car brand. it is no surprise to see that they have a premium landing page that has been well optimized in a number of ways:
The navigation menu at the top is responsive and expands upon clicking on certain options. As well as this, they have displayed links to some of the site link extension links just in case I was still interested in areas of the site such as to build an Audi or finance and offers.
Images are a 1000 words – this definitely applies to this landing page with a gorgeous image of the new Audi A3s, in the hope to make people want it before just finding out the features and more of the car.
There is nothing that makes me want to go below the fold of the landing page which is what Audi wants. However, when scrolling down the page, the whole range of cars appear that I can click onto and explore further.
Ultimately, this is how a PPC campaign should be done. The search advert displays enough information and links for the web user to explore the main area of Audi's website and the landing page continues exactly where the search advert left off which is how a PPC campaign should operate.