In this week's analyse a real PPC campaign, I will be looking at Aston Martin: a British based sports car manufacturer. This should bring a different perspective to PPC. In the past, my last analysis's have been quite general such as Apple's iPod, Microsoft and Nike. However, with Aston Martin, it is clear they are only targeting their cars to a specific market: people who can afford to buy a sports car that like it to be British based. For this reason, looking at Aston Martin's PPC campaign may prove much more useful than first thought.
To view Aston Martin's PPC text advert, I typed in 'Aston Martin' into Google search for UK: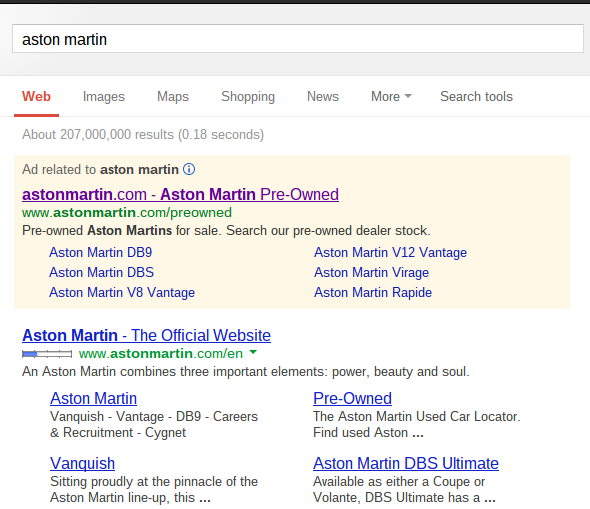 I found this text advert particularly interesting because the first result for Google search is Aston Martin's homepage – why would they spend money on PPC then? Well, looking at the advert, it seems it is more of a price sensitive campaign aimed at those wanting to buy an Aston Martin that perhaps can't afford it (therefore, buy a used one). With the economy the way it is, more and more people will most likely be finding it hard to buy new Aston Martins.
A dominant feature of the whole text advert, I feel, is the keyword density of 'Aston Martin' which is displayed twice in the title, once in the description and six times in the link section of the advert. This makes one thing clear. Aston Martin wants to make clear that even if the cars are cheaper and pre owned that you will still be buying an Aston Martin. From this, it is clear that if your campaign is centred around a good brand image, make sure you use it to your full potential like Aston Martin are!
A great feature of the text advert is that from having the links to many different types of Aston Martin cars, they make it seem like there is a wide selection of pre owned cars to choose from: the web user is definitely not limited by choice to pre owned Aston Martins.
After clicking on the text advert, I came to the following landing page:
When I first saw this landing page, I thought of the type of image Aston Martin wanted to portray. The landing page looks smart: especially from the background image used. By having a close up on the stitching on the car, it makes the web user believe that Aston Martin gives all their cars attention to detail. This means that even though the car they might be buying is pre owned, it will have the same precision manufacturing as a new Aston Martin today.
Like always with PPC campaigns, Aston Martin want to analyse the performance of their PPC campaign through installing code onto their landing page. This is clear from the html left after the main bulk of the URL being '?gclid=CPrmh5Kd9bYCFTMRtAodJWMALA'. Ultimately, the main features of Aston Martin's campaign is that:
They have gone for a price sensitive market that are looking for cheaper alternatives of the same product. Thence, the pre owned.

The text advert uses the brand image of Aston Martin to entice the web user into a click.
The landing page does not make the web user feel 'cheap' in anyway for being price sensitive.