Hopefully, you have all had a great Christmas this year. But, unfortunately, it is now the time for the manic rush of the boxing day and January sales. You will be surprised if you did not know that most businesses make the majority of their profit in the Christmas season (being before and after Christmas). Therefore, it is vital to the business's success to create a PPC campaign that will gain many conversions for people wanting to find sales after Christmas. I will be analysing Asda's PPC campaign in this article which is a campaign based around trying to get web users to browse through and buy products in their sale.

To view Asda's PPC text advert, I typed into Google search UK 'january sales':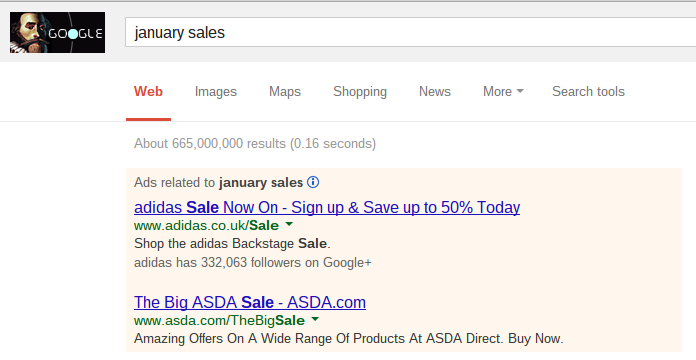 Straight away, it is clear that Asda have a lower CPC than Adidas since Adidas are ranked higher than Asda (and, in PPC, the more you pay, the higher you are ranked).
What Asda have been clever at is the inclusion of power words. These are words in the English dictionary that mean more to people than other words and evoke actions from them. The power words Asda have used include 'Big', 'Amazing' and possibly even 'Wide Range'. These words are all working together to tell the web user that Asda's sale is the one they need to see.
As well as power words, Asda has included a call to action. If you have read some of my other articles, you will know that every PPC text advert should try to include a call to action: if you are not asking the web user to do anything in your advert, how do you expect them to click on your advert? Asda has used a simple call to action being 'Buy Now'. There is nothing extravagant about it – it is to the point and will work effectively to induce more clicks on the advert.
After clicking on the above search text advert, I came to the following landing page:
You will know that there are many different types of landing pages out there. From the selection advertisers can choose from, it is clear that Asda's landing page is a click through landing page. The objective of this page is to entice the web user even more into Asda's sale by giving them glimpses at what sales there are (for example, there is a sale on a Vax Vacuum Cleaner). As well as this, the navigation menu for the sale is at the bottom of the page. This also makes clear that this landing page is designed to help the web user find a specific area of the sale much more easily since the Asda sale has a 'Wide Range' and is 'Big'.
The colour choice by Asda is also interesting too. From an article I did a while back Why Colours Are Important In PPC, red is a colour which makes people become alert since it is the colour of blood and danger. This is the perfect colour to the make the background for this landing page since a sale has limited stock. Therefore, you want to create a sense of urgency that once the items have been bought, that's it! This entices the web user even more into buying items from the sale quickly which is a very clever technique from Asda.