Carrying on the 'Analyse A Real PPC Campaign' series, the last article in the series looked at Amazon who can be seen to 'have it easy' when it comes to structuring their PPC campaign. Since they are an extremely dominative force on the internet, all they have to do is get people to visit Amazon. No matter what section that web user lands on in Amazon, they will be able to find something that they may want to buy (due to the categories tab). In this article, I will look at a different type of campaign involving one of the best reviewers on the internet: Which?.
To view Which?'s PPC search advert, I had to type in 'microsoft surface' into Google search UK: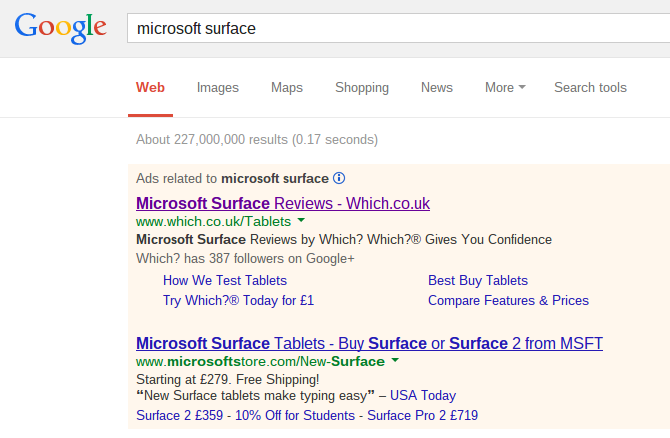 The main reason for typing in 'microsoft surface' is so that I can see how Microsoft have made a PPC campaign to advertise their brand new product to compete up against the iPad Air: Surface 2. However, from the above image, it is clear that they have not really tried that hard to promote their new tablet. They are not the highest CPC for their own product name and don't seem to be selling the tablet too well in the advert either.
Putting the above aside, this article is going to look at Which?'s campaign. Their advert will be effective is gaining a high CTR because with the new launch of the Surface 2, people will want to know just exactly what the tablet is like from an objective source: Which?
The advert also contains add ons such as Google+ circles and has four extra links to four different areas of Which?'s website. The extra links are useful but I do feel that the addition of Google+ will not help Which? in anyway. They only have 387 followers on Google+ which is extremely low compared to the big companies or, in this case, Microsoft who they are competing for web users from in PPC. There is a rule with social media, websites or actually anything where you have statistics. Only ever advertise or make the statistics public when they are impressive figures. Other than that, they won't help you that well.
After clicking on the text advert, I came to the following landing page:
When I first saw this campaign, I realised that this campaign was not for the new Surface 2 tablet but the previous Surface RT. It was the vagueness of Which? in the text advert that let me to believe that they had a review of the new tablet. This goes to prove that Which? have not really done anything with the new Surface 2 tablet yet but made a vague advert to attract web users who are interested in both the new and old Microsoft tablet.
Looking at the actual design of the landing page, it has many similarities to that of Amazon's landing page on their campaign because there are so many internal links on the page. This makes it extremely easy for web users to find exactly what they want if they didn't get it when they first landed on the page (which, if people were looking for the Surface 2 review, they can then browse the site for something else of their interest).
The main reason for the PPC campaign is because Which? needs customers to sign up for their service to become a profitable business. Therefore, this is a click through landing page. Which? makes clear they are a well structured website with lots of reviews on just about anything. However, to land on the page and not get to see the review will entice the web users into signing up with Which? for a pound.