Continuing the 'Analyse A Real PPC Campaign' series, last time I looked at Website Broker's PPC campaign who had accommodated a landing page for both buyers and sellers of websites. This article is going to look at a PPC campaign by the giants themselves that is Amazon. Amazon has become a formidable force online in the last ten years with just about everyone everywhere using them on a regular basis to buy their every needs. For this reason, it will be extremely helpful to look at how they use pay per click advertising considering that everyone knows the website layout and brand name of Amazon.
To view Amazon's PPC campaign, I typed in 'buy books' into Google search UK: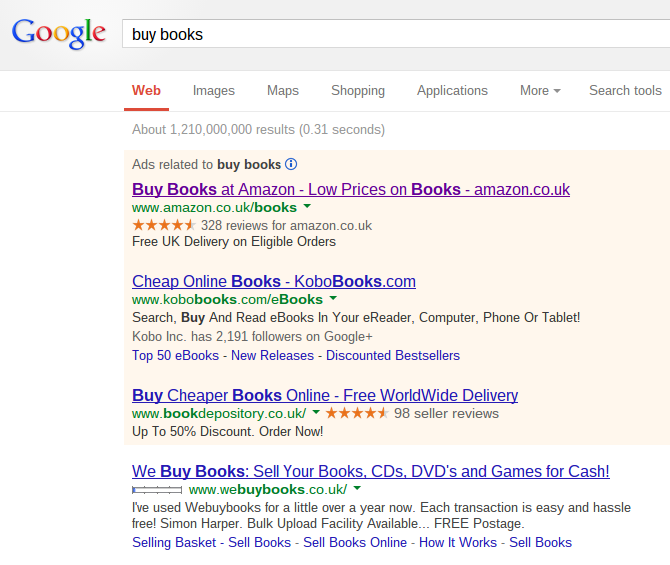 Rightly so, there is a lot of competition for 'buy books'. As well as this, I have found in the past that some businesses create a PPC campaign even though they are ranked #1 organically for a certain keyword and that there is no other PPC campaigns bidding for that keyword. For Amazon, they are not ranked #1 organically but actually 5th. Therefore, if there are ever going 'steal' traffic from the websites above them organically or from PPC, they need to make a PPC campaign. It's also interesting that Amazon is the only website that created a PPC campaign in the top five organic results.
The text advert is, what I deem, 'bog-standard' and extremely to the point. Everyone knows who Amazon are and how they work so there is no need to go into any more detail than they already have. The description makes clear that it will be even cheaper with possible free delivery and the reviews makes clear that Amazon are trusted and rated highly by web users. From the title, we can gather that, financially, Amazon is a good place to buy books as they are cheap.
After clicking on the text advert, I came to the following landing page:
There is no real need for Amazon to change the design of their website because everyone already knows how to navigate themselves around Amazon. There are lots of internal links to encourage the web user to browse through their whole selection of books. However, what I found interesting is that the 'centre stage' area of the landing page is taking up by some relevant information for this time of year. Amazon are keeping their landing page up to date with the time of year it is which is why they are advertising 'Off to University' in the middle. There are millions of students that need books, stationary etc. for their studies. This makes clear that Amazon have acknowledged that out of the amount of web users that typed in 'buy books' to Google, a lot of them will be students as this is a common time students need to buy new books for their respective University course.
The great thing about the landing page, though, is that anyone can view it and find exactly what they want from it. This is because it is a click through landing page where web users have to click on a link that takes them to a more specific page to what they want.