The last PPC campaign I analysed in the 'Analyse A Real PPC Campaign' series was from KLM, who had both good and bad points to their search advert, whilst their minimalist landing page would have worked well as a click through landing page.
As the schools are looking to break up for the summer holidays in the next month or so, now is a time that many families and people are looking to have short breaks away, just to get out in the sun and relax. With this, here is an analysis of a PPC campaign from Alton Towers (UK theme park).
To view Alton Towers PPC search advert, I had to type into Google search UK, 'alton towers':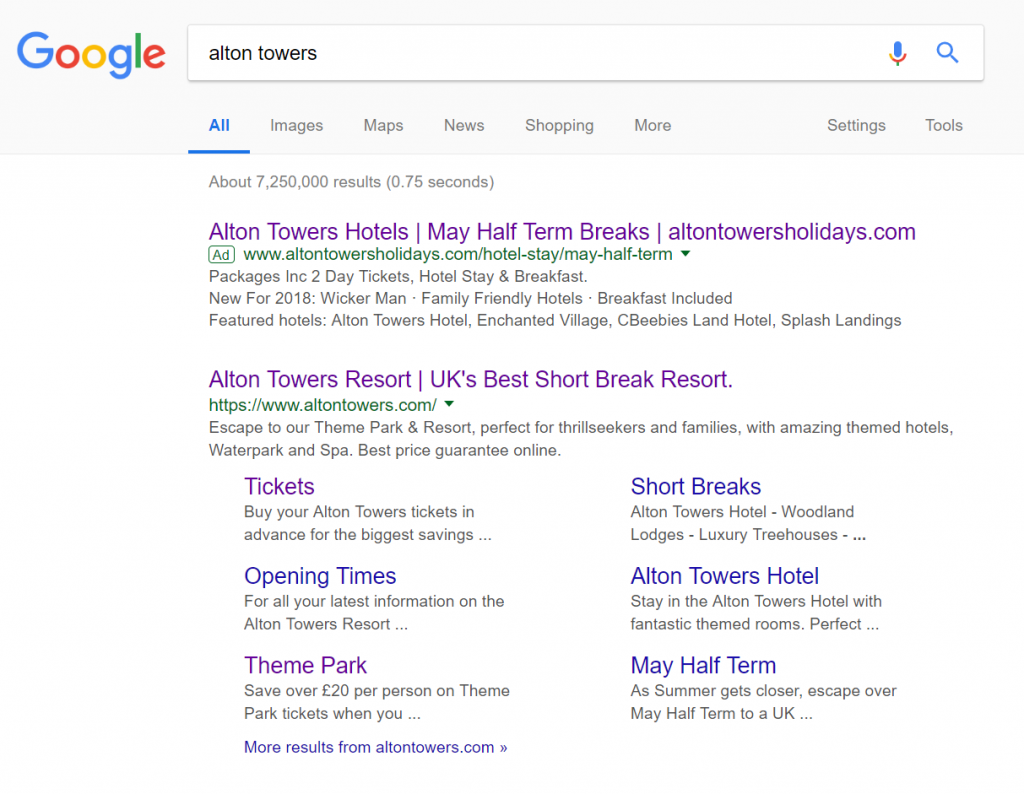 Bidding for your own brand name is a common characteristic for PPC campaign since this:
Wards off competition in paid search results.
Allows the advertiser to point the web user to any page they want, such as an offer page, instead of the homepage (which is typically what ranks organically number one for brand name search results.
To advertise a deal or something new that organic results cannot do.
From this, it is clear that Alton Towers are using PPC for points 2 and 3, where they are trying to get people to book short breaks to the theme park hotel over the May half term (when school is off). The title is packed with the brand name and May half term, which specifically addresses those wanting to go away for that week only (which can be seen as both a good and bad idea). The description is then packed with the features of Alton Towers to entice the web user in further.
After clicking on the above advert, I came to the following landing page:
This landing page is an example of a lead capture landing page. This is made clear at the bottom of the page, where there is a check in/out and number of guests boxes to fill in before searching for breaks to Alton Towers.
There are both good and bad points to this landing page, outlined below:
It's extremely colorful and centered around young children. This concurs with the fact that May half term is when children are not at school. Therefore, Alton Towers are targeting families with young children with this campaign.
The use of the colour purple is effective in making Alton Towers appear more luxurious, since this is what purple is commonly associated with.
However, the lead capture is at the bottom of the page, which is not the prime location for the conversion to take place – it would have been better to have put the boxes/search bar in the middle and create an image around that.
For those that do not have children, this is quite a child-orientated landing page. It could put off many couples and friends from going Alton Towers, if they feel it is too centered around kids – the swings and roundabouts of going specific with your target market on a landing page…