The only thing more fun that looking at your own banner and ad campaign results, is seeing others display their results for your. The concept of testing different banners and ad copy and seeing which people actually click, and why, is always quite fascinating to marketers of all types.
A new web site I just came across, called AdChop, has a nice selection of posts on their site that show different banners and ad copies that you can vote on, for ad copy which you think got the best click through rate. Once you vote, you will get to see the actual stats behind each campaign, and why/how those ctrs were achieved.
Which 728×90 Woodworking Banner Converted Best?
The current banner case study on their web site is for the three banners below, which they use to promote one of their top selling clickbank products. Which of the three do you think people are clicking on the most? Head over to their site for the full results and past case studies.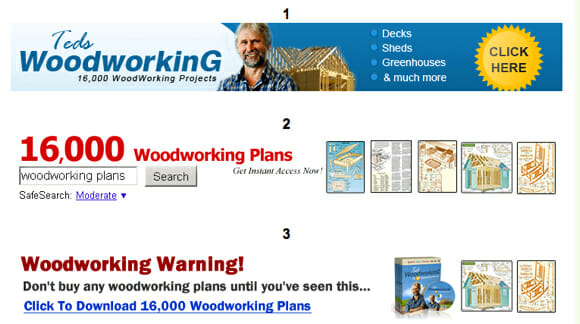 Free Guide: 69 Super Affiliate Tips to Skyrocket Your Commissions
Another bonus through the AdChop web site, is their free guide which has a ton of quick tips for any affiliate marketer to learn from. The best part, is the guides 100% free and in pdf format, you don't even need to join a mailing list or submit your email!