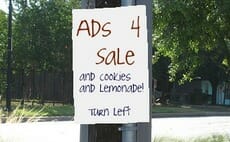 Three of the largest display ad networks Yahoo, AOL, and Microsoft have signed a ad deal to use their unsold inventory and allow another network to use the inventory to increase margins.  This deal will allow the 2nd, 3rd and 4th place display networks to make more money and compete a little more against the Google Giant!
Ad networks have been doing this for years, re-selling each others inventory at a discounted rate.  This allows both networks to gain from money that would otherwise be left on the table.  When display ads inventory is searched and no one is taking the inventory the ad network looses money.  But if they display network gives that to the competing search engine or display network they have a chance to split the revenue together.  No official details have been given on how much the revenue deals share will be but when I have seen this in the past it's been a pretty even split between the two.
It's looking like the exchange of network ads will be built on the AppNexus ad exchange by Microsoft Advertising Exchange.  It could also use and integrate with Yahoo's Right Media Exchange if that doesn't work. Each one of the companies will set up how it works with the other company and how it intends to broker ads to the other ad networks.  This should be good for us all.  This deal represents cheaper media and more ads that we can buy on the Display Ad Networks.  If you buy media on display networks, now  you can buy three different networks all in one place.
This is a step in the right direction for Anti Google competitors.  This is the first step for other companies to knock out Google as the main competitor.  Even though all of them together will only represent around 20% of all the display network ads out there, Google will still hold on to first place with around 60% of all inventory.  The three giants do however represent a much larger array of sites and greater long term search results for anyone looking to make money off long term key phrases.
John Rampton is a PPC Entrepreneur, Author, Founder at Due a finance company helping small business owners. Follow me on Twitter @johnrampton