In this post I will go through a live account review – what not to do in your PPC account that I'm working on.  I'm working on a screensaver account today.  I'm doing this for a friend and I'm not going to give away what their company name is.
When I do FREE work on an account, most of the time I will blog about it as to have fun with the account and give real life examples to you to help you make better judgments with your personal accounts.
Today I'm working on a screensaver account.  These guys are a VC funded company that is blowing through their money faster than they really should.  First word of advice when putting an account and spending between $5K-$10K/month on PPC ads, make sure you have someone who has actually managed a campaign before.  If not, you should train them before you spend the big bucks.
I went in for a PPC audit the other day, which I do from time to time on accounts.  This guy is a friend of a friend so I'd give it a chance.  I told him that he's bidding on "screensaver" keyword and it's not that good to be bidding on that alone.  He needs to take that out of there.  So what does he do?  He goes and deletes it from the campaign as seen below.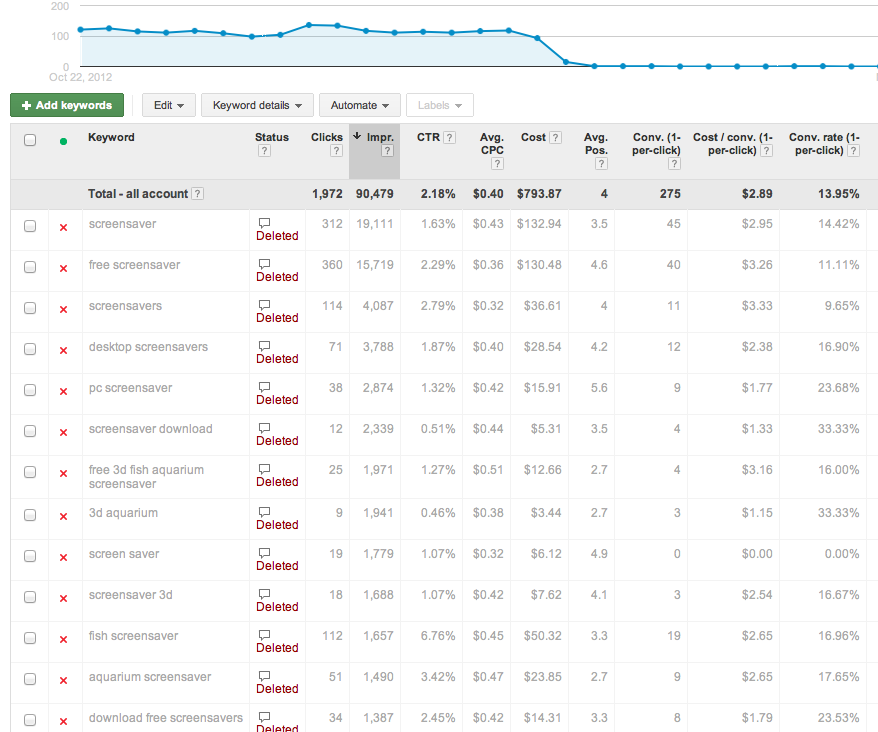 Ok, so I get that he deleted that keyword…even though I didn't tell him to delete it.  He then took what I said out of context and deleted anything related to that.  As you can see, there are tons of keywords that have been deleted.  All in all, he took 21 keywords and deleted them that converted over 275 conversions.  Idiot.  When something is converting, don't just delete it.
They want to get conversion rate below $2 a conversion.  So you go and delete it?  No way.  You optimize it to be better.  You write new ads, you change up landing pages, you get faster hosting.  You don't just delete it.  There account has ZERO conversions right how and they've spent over $700.  A $3 conversion is much better than zero conversions.
The best thing to do if you're in this situation is seperate each of those keywords into a different Adgroup.  Pay attention to them.  Pay attention to the little details.  Optimize the ads so that they .  Make sure to have a seperate landing page built for each of them (very easy to do if you have dynamic keyword insertion) going on in the background.  This will cause your quality scores to go up.  When your quality scores go up, your cost per click will go down.  Baaaam, you've taken your conversion cost down with one simple step!  It's that easy.
Stop pausing things that are working and figure out how to get them to convert better.  Now, that being said… don't lose money on them and don't have them the main cause of the ship going down.  The simple PPC Tip from above could save this company $1000's a month.  Not to mention get them 1000's more conversions within a couple days
John Rampton is a PPC Entrepreneur, Author, Founder at Due a finance company helping small business owners. Follow me on Twitter @johnrampton