GeoeEdge is one of the largest proxy networks in the world. GeoEdge is a type of progress report of your website's performance at over 100 locations across the globe; at the first look the geoedge.com may appear to be a bit useless but once you totally go through and understand its true power; you will be able to realize its importance and utility. It follows a similar hierarchy as in a company; you need a manager to get the reports about your employees. Similarly you need GeoEdge to get the reports about your websites. Be it explorer, chrome or fire fox almost all the browsers are supported, you just need to install the GeoEdge toolbar to your browser and the performance reporter of your website is at your service.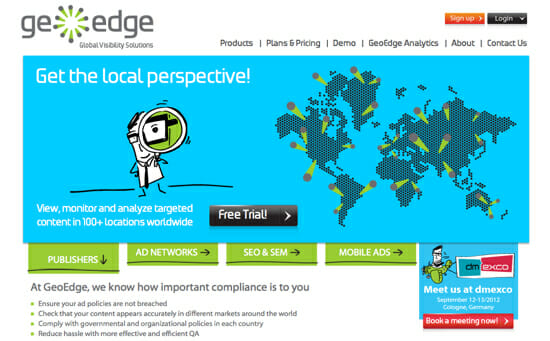 Inside
Geoedge.com provides a free trial to all its non members and visitors where one can explore many countries around the world. The tool bar is quite easy to use and accurate and organized continent wise thus avoiding the cumbersome scrolling between a long list of countries. The mobile emulation feature was simply remarkable it allows you to view a page as it would appear on any mobile handset.
Accuracy
The tool bar is quite accurate and directed me to the correct Google page as per the location I entered. In a nut shell; kudos to the accuracy of GeoEdge tool bar.
Updates
GeoEdge is well compatible with almost all internet connection types that are commonly used.
Speed
The overall speed of the website is fine but the speed sometimes becoming slower while changing to some location.
Special Feature
Snap It a unique feature providing a consolidated view of ads and pages from different geographical locations as per your selection.
Benefits to Offer
GeoEdge enables a SEO professional or a website owner to check out the search results of any keyword on any search engine or how an ad would appear on any website. GeoEdge in combination with a powerful BI engine facilitates its users to analyze or capture any ad from any website globally. If suppose you being in France and managing the advertisements for a website and want to view how the ads are displayed in Russia, then it is now possible through geoedge.com.
The biggest advantage is for the online marketers who do research about the market that they target. The pay per click marketers can get to know about the performance of their ad and can work upon accordingly. Local website surfing actually has a lot in the offering.
Cost
GeoEdge can be tested via free version that enables a look at 8 locations.
The pro package starts at $59 per month providing a 200mb of search capacity and view of 3 locations, no trial is available for pro version.
Conclusion
GeoEdge has a lot in store for those who are presently doing well in online marketing but for a start up the software is too costly to afford.
This guest post was written and provided by blogging.org writing services.