Staying ahead of the game, or even on pace with it, is the way SEO seems to work. It is constantly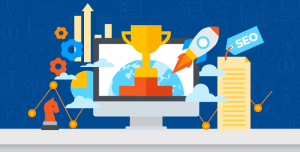 evolving based on the algorithm updates Google and other search engines implement, to shape the way they want content to be created online, with the aim to make the online experience of the web user better. With this in mind, here are some quick fire SEO tips you can take into 2019 to help improve the organic ranking of your website next year:
First impressions are everything:

Improve your website's design so people do not click away so quickly. When web users click onto your website from Google, Google can estimate how 'useful' your web page is by how long the web user spends on the web page. If the web user clicks straight off the your website and back to the search results, this makes clear your web page is not helpful to the search phrase the web users searched for, reducing your rank. The opposite applies as well, improving your SEO if web users stay on your website for longer. From this, the better your design for your website, the more likely web users are to stay on it from Google, improving your organic ranking.
Use a range of font sizes, lists and headings. When Google uses robots to crawl through your website's content, it places different importance on different parts of the content, depending on the content's font. For this reason, it helps the SEO of the content to use different headings (headings 1-3 at least with WordPress), bullet points, lists and italics/bold.
Add social sharing buttons. Social media shares of content is now playing a factor in the SEO of content online. With this in mind, you should be doing everything in your power to make sure your are promoting web users to share your content – the more shares, the better.
Optimize your content for featured snippets. It is true to say that if your content features as a featured snippet on Google search results, you have hit a winner for that content. This is because featured snippets always rank #1 organically, so gain a substantially high CTR. As well as this, your 'standard' organic result will still appear on the first page of the search results, so you get two results instead of one (double the chance of a click). To increase the likelihood of having content that would feature as a featured snippet, try to use lists wherever possible, since this is a favorite for featured snippets. Another technique would also be to answer questions in concise sentences that Google could use as a featured snippet.
Write longer content. The more content you have on a web page, the more content Google can crawl through, understand the content and better rank it. This is generally why it is a good idea to now create content that is at least 1,000 words or more.