Pay Per Click campaigns can be tricky. There are a lot of variables involved such as click-through rate, cost-per-acquisition, and return on ad spending that can make them seem daunting. You want to optimize your strategy to account for everything. Check out these five techniques that'll help you generate more quality leads than ever before.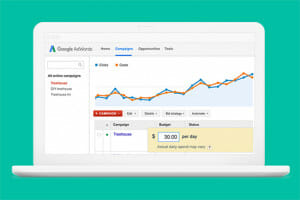 Image Source: www.adwords.google.com
Before we get started, here are some terms you should know:
• PPC (pay-per-click): an ad campaign that is billed based on the number of clicks on the ad
• CPC (cost-per-click): the dollar amount spend-per-click on a given ad
• ROI (return on investment): the amount of return on an investment relative to its cost
• CTR (click-through rate): the ratio of people who click on your ad after seeing it
• CPA (cost-per-acquisition): an advertising pricing model where the advertiser pays for each specified action
• ROAS (return on ad spending): the dollar amount earned per dollar spent in an ad campaign
As its name suggests, Google AdWords is Google's advertising system. It allows businesses to set a maximum budget for spending and only pay when the ad is clicked on. The more relevant the keywords chosen for the ad, the more likely it is to be seen and clicked. Think of it as a double-edged sword. Yes, you only pay when the ad is clicked, but you can still flush your budget without getting any conversions. This is especially relevant today considering that a recent update to the Google Keyword Planner limits the amount of data low-playing advertisers receive. With the right tools though, you'll be able to monitor your spending and make the most of your campaign.
Image Source: www.adwords.google.com
1: Increase Your CTR by Writing Better Ad Copy
Why Do I Want to Increase My CTR?
Well, for starters, it's probably the reason you're running a PPC campaign in the first place. You're trying to get more conversions and increase your ROI. Something you might not know is that having a higher CTR also means paying less for each click you're getting. A higher CTR translates to a higher quality score, which lowers your overall CPC and places you in a higher position as compared to your competitors.

Image Source: www.wordstream.com
How Will Ad Copy Increase my CTR?
The point of creating ad copy is to attract people; you want them to click on your ad. The first thing you have to do is ask yourself what your customers want. What's their end goal? Veeam Software, a Microsoft managed IT company, did just that. They conducted a survey targeting those who visited their product pages and asked what information they wanted to see on their site. The people spoke and wanted pricing information. Veeam didn't include pricing on their site because they sold through partners, but they did have a "Request a quote" link. They decided to make a simple switch: change "Request a quote" to "Request pricing." The result? A whopping 161.66% increase in their CTR. Sometimes changing a single word is powerful enough to transform results.
Create a sense of urgency. Everyone loves a good deal, and fear of losing it is the motivator many need. You can customize your ads with real-time updates and insert a count-down timer that'll give you an edge over your competition. Not convinced? What if I tell you that Clarks USA, a leading global footwear company, used these same countdown ads over the Black Friday/Cyber Monday weekend and gained a 32% increase in CTR?
2: Make Use of Smart Bidding


Image Source: www.aumcore.com
Smart bidding is part of AdWord's automated bidding feature and uses machine-learning algorithms to make accurate predictions about how different bid amounts impact conversions or conversion values. Anthony Chavez, Product Management Director of Search Ads at Google, says that it "can factor in millions of signals to determine the optimal bid, and it continually refines models of your conversion performance at different bid levels to help you get more from your marketing budget." In other words, it lets the computer do all the heavy-lifting. Some strategies you can make use of are:
Target CPA Bidding: sets bids to help as many conversions within the target CPA

Google recommends having at least 30 conversions in the past 30 days to maximize results

Enhanced CPC (ECPC): automatically adjusts your manual bids for clicks that seem more likely to lead to a conversion

Differs from target CPA in that it's constrained by your manual bids
Google recommends having at least 50 conversions in the past 30 days to maximize results

Target ROAS Bidding: helps you get more conversion value or revenue on your ideal return
Companies like AliExpress and SurveyMonkey are already implementing them in their marketing plans and have been rewarded with better performance. Jessy Sheng, Marketing Manager at AliExpress, said that they "wanted access to more diverse signals…to make it more dynamic and help raise online sales across multiple markets." They saw a 93% increase in conversions and 46% reduction in CPA. Similarly, SurveyMonkey saw a 44% increase in conversions after three weeks of testing.
3: Consider Mobile Optimization


Image Source: www.aumcore.com
Unless you've been stuck in a cave or remote island without internet access for the past year, you've most likely heard that we live in a "mobile-first world." This phrase has really made the rounds recently, with companies like Google prioritizing mobile over desktop in their search index.
What Does this Mean?
This means that Google will use the mobile version of your site as its main source for content and ranking signals.
Let's look at some statistics:
• More searches are made on mobile devices than on a desktop
• More than half of all web traffic comes from smartphones and tablets
• 30% of all mobile searches are related to location
How Can I Use This to My Advantage?
Google recently redesigned AdWords from the ground-up, essentially paving the way for you to jump on the mobile bandwagon. You can choose to have mobile-preferred ads and make bid-adjustments to these ads to test out the combination that works best for you.
We live in a fast-paced world and when we search for something on our phone, there's usually a sense of immediacy. You want to find that coffee shop near you now; waiting for a page to load is out of the question. Opt for a mobile-friendly or responsive landing page that will load faster and be formatted for mobile devices. Take Butlin's, for instance. They're a chain of holiday camps based in the UK that noticed the mobile trend and took action. "A mobile-first strategy isn't just a 'nice to have', it's critical," says Ian Parrish, Acquisition Manager at Butlin's. They launched a new mobile site and found a 125% increase in online quotes and a 78% increase in total revenue, with mobile becoming their highest-revenue device channel.

Image Source: www.thinkwithgoogle.com
4: Make the Update to Expanded Text Ads
If you haven't made the update yet, do it. The expanded form of the traditional text ad was designed for the mobile-first world that Google loves. It's available for both the Search and Display Network, and as of now it's optional. After January 31, 2017, though, you'll only be able to create and edit the expanded form. If you're reading this after that date, congratulations, you've made the update!
How is it Different from Traditional Text Ads?
• Two headline fields instead of one (30 characters each)
• Expanded description field (80 characters)
• Two optional path fields instead of one


Image Source: www.google.com
Should I Treat Expanded Text Ads the Same as a Traditional Text Ad?
In short, no. It's a wasted opportunity. Don't use the second headline as that, a second headline. Use it say something new that will draw consumers in. Keep in mind that the first headline is more important, so use that to convey the more important message, and the second to add a call-to-action or something else that will increase your CTR.
But Will It Work?
How about consulting those who've actually put expanded ads to use?
"With the additional ad space, we're now able to highlight our promotions and sales while preserving our core brand message" -Robert Spears, Digital Marketing Director at Guitar Center. Their non-brand campaigns have already seen more than a 2x increase in CTR.
"Expanded text ads represent a tremendous opportunity for L'Oréal…We're now able to showcase the breadth and depth of our beauty products, and build brand love — all from a single ad creative." – Kirsty Woolley, Multi Channel Acquisition Manager at L'Oréal Luxe. They've had a 92% increase in CTR for one of their brands, compared to their old text ads.
5: Improve You Ad with Extensions


Image Source: www.redlettersph.com
Extensions work because they add value to your advertisement. They give people more reasons to click your ad at no extra cost. You can add a site link extension that provides more links, thereby improving your CTR because you're effectively giving people more choices. Another option is a call extension. This is especially useful for mobile devices because potential customers can get in contact with you at the touch of a button. How about taking advantage of the fact that 88% of people trust online reviews as much as personal recommendations, and get yourself a review extension? Or you can be like the Home Depot and make use of location extensions to increase your ROI. They utilized a location extension for display ads to reach consumers' mobile phones while they were nearby, essentially delivering an 8x in-store ROI on mobile ad spending.
In Conclusion
These are five of the many techniques at your disposal for quality lead generation. You can try them out separately and see what's best for you and your business, or you can use them in concert with each other. Improve your ad copy with the expanded text option. Optimize for mobile and make use of extensions. And if all else fails, do what a lot of companies do and enlist a marketing company to run your campaign for you.
Author Bio:

Matthew is a creative content writer for Aumcore. He has a passion for marketing and all things digital. He's interested in the evolution of marketing throughout the past century and specializes in PPC services.