When it comes to making money online, most bloggers will look to the obvious (and maybe best?) option being to use Google Adsense adverts on their website. However, many bloggers out there do not realise the vast number of ways you can monetize a website: their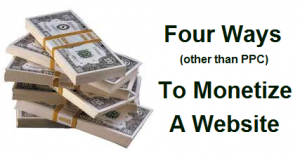 opinion is extremely biased. To stop this from happening, below are some of the most used and best ways, I have found from my experience, to monetize a website without using any pay per click advertising programs such as Google Adsense or Ad Dynamo.
I will not go into any other ways to make money online similar to Adsense too. This article is more designed to look at the whole spectrum of ways to make money online which you may not have known before. This is why I have left out in-text advertising and CPM advertising.
Banner Advertising
Banner advertising has to be one of the best competitors to PPC when it comes to making money online. Websites such as  have made it become very easy for bloggers to become publishers and sell advertising spaces on their website.
Pros – Little work to do. Works alongside Adsense. Has the potential to earn alot of money.
Cons – Cannot guarantee advertisers to buy your advert space. What you earn from adverts is fixed. Getting accepted onto BuySellAds can be tricky.
Write an eBook
The majority of traffic will have found the content they read useful on your website. Therefore, they would be enticed into buying your eBook because they have had a taster of what your writing abilities are. This is great for websites that aim to help the web users such as tips and tricks websites, advice websites and so on. For up-to-date news websites, this may be a bit more difficult.
Pros – The sky is the limit with the amount of sales you could get. Use Adwords to promote eBook. Attracts a larger audience to your website.

Cons – Does the web user actually need the eBook? Pricing the eBook is tricky along with the whole marketing of it. Takes time to write.
Social Media
If you have a website, you are more than likely to be social too with at least a Twitter and Facebook account. If you have enough follows, you could think about generating money through sponsored tweets and messages. It is a good idea though not to do too many sponsored tweets as you might lose followers.
Pros – Simple, quick and easy. Fast way to make money. Many sites out there that can help you sell tweets.

Cons – Large chance of loosing followers because of annoying them. Price for tweets can be quite low. Not a reliable source of income.
Sponsorship Deals
You will find that many of the high-traffic websites will have PPC or any other forms of monetisation implemented but will have a private sponsorship deal instead. Usually  a sponsorship deal will involve displaying image adverts in the sidebar, header or above or below the post. However, you will find that sometimes, there are sponsorships which have them embedded into the content as text.
Pros – Generates lots of income consistently (if sponsorship is longer than one month). Doesn't take up as much space as Adsense. Could work alongside Adsense.
Cons – Hard to find advertisers to agree a sponsorship deal with. Prices will be negotiated between you and advertiser. Less control of your website.
There we have it – four ways other than PPC which you could make you money online with your website. Interestingly enough, you could implement any of the above four alongside Adsense. However, you will need to remember that this may affect your traffic levels seeing that web users become more intolerant to websites with more adverts on it.