The bounce rate is an important statistic for websites and can be deemed a crucial stat in measuring the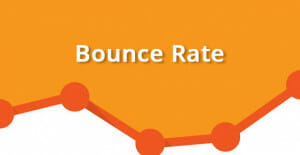 health of a website. Too high and it suggests the web users don't find your website useful and want to get off it as soon as possible, whilst a low bounce rate signifies the exact opposite.
The bounce rate is defined as the percentage of visitors to a website that exit the page that landed onto, without clicking onto any other web pages on the website. For this reason, you will usually find that a lower bounce rate results in more pages/visit and more pageviews, which is something we all want. To make this happen, here are four ways you can look about reducing your website's bounce rate.
Reduce Page Load Time
How long your website takes to load plays a big part to the bounce rate of your website. If it takes too long, web users will get impatient and simply click away to find another website with similar content, especially when they have landed onto your website from search engines.
To reduce the page load time, make sure you have an effective caching plugin for your website to effectively shrink down the amount of data that has to be sent to the web user in order for them to view your website.
Have Some Content Above the Fold
There is nothing worse than a web user landing onto a web page about 'X' and not seeing anything about 'X' above the fold of the page. This tends to contribute to a high bounce rate as if the web user cannot see anything relevant to what they want, they are not going to bother too hard to search for it either, even if it just below the fold.
The way to get around this is to have the title of your content, as well as 2-3 lines (at least) of content displayed above the fold, so that the web user can see the content they want to read upon first landing onto the page.
Have a Responsive Website Theme
Long are the days that web users are on websites just from laptops and desktop PCs. There are now smartphones, tablets and even smartwatches that can browse the web too. This makes it vitally important to have a website that can adapt to the screen size that is viewing it. If it cannot, the website will be difficult to navigate on the device viewing it, resulting in a click away and a high bounce rate.
Increase the Font Size of Content
As crazy as this does sound, most font on websites can be made a little larger to reduce the bounce rate. This is because a larger font size is easier to read and makes content seem not as long, resulting in a lower bounce rate. Of course, there is an obvious 'sweet spot' as to how large the font can be, which can be done through A/B testing continually.