I will repeatedly stress that the landing page in a pay per click advertising campaign is one of, if not the, most important aspect of the whole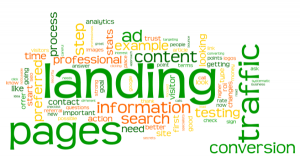 campaign. This is because it is the element of the campaign where the actual conversion takes place which will determine how cost effective your whole campaign is. Yes, there are lots of elements to a successful PPC campaign such as good keyword selections and a well made advert. However, it is all for nothing if the last domino in your campaign does not fall (being the landing page). For this reason, here are some good universal landing page tips any PPC advertiser can take use of in their respective campaigns.
Speed is crucial – Above anything, make sure you have a quick loading landing page. Test it to see how long it takes to load. If it feels too long (or from the average time it takes to load a page is longer than that), look at ways of increasing its speed. Remove unnecessary JavaScript, flash and images. If you feel you cannot remove anything without it affecting your landing page's performance, look directly at the HTML of the landing page and try to find areas of HTML that are not used at all and can be deemed as junk to remove.
Use social media share buttons – Social media is great on landing pages because if you have targeted your campaign well, you should be getting web users that are generally interested in your landing page. If they do not convert for you, there is still a great chance they will share the landing page onto their social media websites, expanding exponentially the audience that has access to see your landing page…at no extra price to you. It is a win-win for PPC advertisers.
Limit text – After creating your landing page, I like to set myself a little task and see how much of the landing page's text content I can change to image format. In essence, you will always have a little bit of text content as it is impossible to change every bit of text to image. However, the bits of text content you can change to image will enlighten you to the fact that you could use more image than text on your landing page than you first thought – images are much easier to read and help decrease the bounce rate of landing pages.
Use an easy-to-read URL – A lot of landing pages will have a very detailed custom code to help them track the traffic from PPC. Although this is great for the analytics, it is bad to visually see. Therefore, where possible, try making your landing page's domain as normal and short looking as possible as this will make the URL easier to remember and look more professional.
Will created AskWillOnline.com back in 2010 to help students revise and bloggers make money developing himself into an expert in PPC, blogging SEO, and online marketing. He now runs others websites such as Poem Analysis, Book Analysis, Ocean and Beyond, and RestoringMamods.com. You can follow him @willGreeny.