As I have mentioned time and time again, BuySellAds is the program to use if you are looking to monetize a website with banner advertising. However, 'a race car is only as good as its driver'. What I mean by this is that is does not matter how fast the race car can go, if the driver is a slow driver, the race car will go slow. The same can be applied to banner advertising. Your website might be absolutely amazing and has the potential to attract a lot of buyers on BuySellAds. However, if it is implemented wrongly into BuySellAds, the results will dwindle. For this reason, here are 3 tips anyone using BuySellAds can use to help sell them that one more advertising unit.
Be Crystal Clear About Everything
There are two types of approaches you could take in BuySellAds:
Falsely advertise your website as amazing so you can get advertisers suckered into buying a unit on your website.
Be crystal clear and transparent about everything to do with your website.
Although approach 2 may not initially get as many units sold, it will work best in the long run. This is because BuySellAds works best with repetitive sales. What you want to do is get a buyer attracted to buying a unit on your website and keep him/her there. Therefore, do not oversell yourself because it may also portray to buyers. 'this website is too good to be true'. Be honest, attract buyers, and because of your honesty, you will be more likely to get renewed advertising unit sales.
Optimise Your Website's Picture
For the majority of people that use BuySellAds, they will simply use a screenshot of their website as the picture that will sit next to their BuySellAds listing. This is fine and everything. However, this picture needs to sell your advertising units.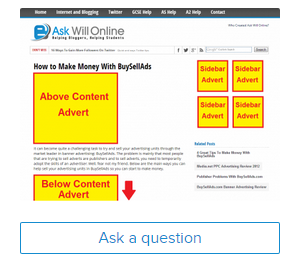 For this reason, it is vital to the performance of your website that you clearly display the advertising units you are selling on your website. Make them bright bold colours to make the advertiser think if his/her advert goes there, it will attract attention. In BuySellAds, it is the subtle optimisations you do that make the largest impact.
Although this goes without saying, always make sure your screenshot illustrates your website at its most up to date.
Choose Common Advertising Units
By far the best way to sell advertising units with BuySellAds is to make sure you have a wide selection of units for advertisers to pick from. These range from:
125×125 – This is the most common advertising units and usually work well in getting sold since they are the cheapest units on most websites.
468×60 or 728×90 – Most commonly found in the header of the website, these will bring in more money. However, to get these sold will be a lot harder.
300×250 – If you want to sell large square/rectangular units, stick with 300×250 since advertisers prefer this size for this adverts rather than 336×280.