There are many different landing pages you can use to direct PPC traffic onto with one of them being the infomercial. However, the infomercial landing page has the notorious stereotype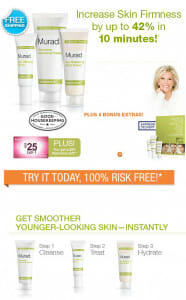 surrounding it that it is associated with spam and 'too good to be true' campaigns. For this reason, many advertisers stay well clear of this landing page as they feel they will not produce the best results for which other landing pages have the potential of doing. But, when used correctly, infomercial landing pages can be very effective. Here are three tips you can use to improve an infomercial landing, should you choose to use one.
#1 Spread Content Evenly
The best part to the infomercial landing page is the fact that the advertiser has lots of space below the fold of the page to put more content and information that can help promote and sell whatever they are trying to promote – advertisers don't need to feel limited to sticking all the content above the fold of the page like they would have to do with other types of landing pages.
Spreading content evenly across the whole infomercial page will prevent early exits from web users since web users will be put off seeing lots of content all above the fold of the landing page they are clicking onto. As well as this, it entices the web user to continue reading: if they have committed to reading more than half of the content from it being spread out. For example, it is quicker and takes less effort to run to the finish line of a marathon than the start line if you have already run 51% of the marathon.
#2 Use One Link and Spread it Across the Infomercial
The infomercial is a very specific landing page – it advertises one thing which usually means only one link needs to be used on the page – how many times that link can be used is a different question. For this reason, it is most effective to have a call to action button as the link appear every other whole page scroll, so that at the majority of moments the web user is on the infomercial page, they will have a button to click onto and convert should they feel they have been enticed enough into converting.
#3 Use Images and Colour
The worst part to infomercials is the amount of content on them (hence the first tip in this article). Whenever there is a chance to reduce the amount of content on an infomercial, do it! This is why images work so well on infomercial landing pages. They can single handedly reduce the content ten fold just by explaining what the content says but in image form. Remember that an image has the potential to be worth a thousand words when used correctly.