Halloween now seems like a distant time which means it is getting forever closer to being Christmas. For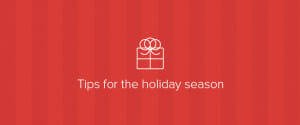 the majority of advertisers, they will have already started their holiday PPC advertising campaigns to capitalise on the on-slaughter of traffic that will go online to buy gifts for others for Christmas. If you are not one of these advertisers yet, do not fear too much since there is still plenty of time to make enough changes to your campaign to change it from a normal campaign to one that will work well during the Christmas-shopping rush. Therefore, without further ado, here are three elements you can implement into your campaign for such holiday shopping benefits.
#1 A Holiday Landing Page
As I have said time and time again, the landing page is one of, if not, the most important aspect to a PPC landing page. Therefore, a campaign targeting the holiday season needs to have a landing page that reflects this. This can be achieved through adding a hint of a Christmas theme throughout your landing page, such as with snow in the background, a hint of red, a Christmas tree and so on. This will help induce people into buying gifts for Christmas and providing yourself conversions.
#2 Have a Sale
Even though spending is at an all time high for the year towards Christmas, it can sometimes be hard to take advantage of this traffic especially if the competition for paid search results is going to be high (which, on the whole, it will most definitely will be). Therefore, you need to give your campaign some differentiation, or some unique selling points (USPs) to make web users click on your advert rather than your competition's. One of these USPs could be a sale, which will always be welcomed by web users. A favourite I like to use is a special discount code such as 'XMAS10' which will give web users 10% off their order. Yes, it will mean that your profit margin will be slightly reduced. However, the extra sales you will gain from implementing such a discount code will be worth it in the long run.
#3 Use Christmas Social as much as possible
Christmas does not just increase the amount of web users that are looking to buy gifts online for friends and family. It generally increases the amount of time people spend online too – both Twitter and Facebook get peaks of use during the holiday season as people interact more with each other. Therefore, it is definitely to the benefit of your campaign to try and get web users to visit your landing page through social media. This can be achieved by placing social media buttons on your landing page and having a secondary objective for the landing page to get web users to share the page to their social media platforms. That way, you will be gaining extra traffic, at a vital time of year, for free.