You own a company that produces excellent product and services. If you are not getting enough customers, all the effort and resource invested in creating quality product and service is wasted.
Marketers and business owners are not able to reach targeted audience. It is major reason behind not getting continuous customers for every company and firm.
It is common challenge that most of the organization faces. Main question here is: – How to deal with it?
There are lots of marketing channels available where you could get possible leads. After too many responses from people, you may be confused about choosing most effective channel and platform for your business.
Now Customers do a detailed research and analysis before purchasing a product so you need to leverage various alternatives to reach out to the customers.
All Platforms has both ups and downs. You have to decide which platform can drive the most result for your business.
SEO is cheapest strategy to get high-quality traffic but it requires lot of sincere effort and time. Also some of the marketers have not received much traffic on their website after years of effort. SEO is a very complex and dynamic algorithm thus only Search Engine knows it perfectly!
On the contrary, when you compare SEO with PPC – PPC can drive you the same amount of traffic from first day of publishing content. You can choose over the various platforms available to promote your content. It doesn't depend on the niche you belong or performance of your website. If you have a significant budget, you could run out a successful PPC advertisement campaign to reach out to these customers.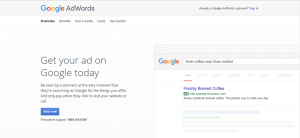 Google Adwords: It is the largest PPC network present on the web. You can target audience by keyword, time of day. It has wide variety of choices like text, image and local based search. The ads are displayed on the top and right side of search result page.
Bing Ads: Microsoft's Bing search advertisement has very less competition and lower rates of CPC as compared to other Search Engine Paid advertisements. Bing allows you to assign special time zones for different campaigns. Bing provides you option to set network, language, location, Ad scheduling at the group level, which is missing in Google Adwords. You can also target Yahoo and Bing, both search Engines and all search networks at the AD group level.
Yahoo Ads: It is a complimentary solution to your paid search strategy. Getting started with yahoo ads is Simple and very easy. The Yahoo team is always available to help when you need a support. The cost of advertisement is also very low as compared to Google Ads. You can get satisfactory traffic from yahoo Ads but volume is much lesser than Google ads.
LinkedIn Ads: If you are targeting B2B business then surely LinkedIn Ads are worth investing. It has largest network of business professionals and could get you real business.
It allows you to pay for either CPC (cost per click) or CPM (cost per thousand impressions). LinkedIn provide you impression based on your competition and clickthrough rates. LinkedIn Ads has very easy set-up, low entry cost and simple yet standard Ad formats. LinkedIn also provide you variety of target based on: Geographic, Demographic, Company, Skills, Group Membership and College.
Facebook Ads: There is no denying fact that Facebook have insanely good reach with almost 1.2 Billion Facebook users. Facebook ads let you pay for objectives and targeting. The harder an Objective is to get, the more you have to pay. It allows you to have real time interaction with your target audience and convert them into customer.
Facebook Ads is great platform to diversify your audience. It helps you to focus on narrow target audience, which is cost effective even for small business owners.
Many people proclaim that Facebook Ads doesn't drive them much result, remember you need real interaction with customers to get good results on Facebook.
Infolinks: As name suggest, Infolinks provide you Inline advertisement. It's quite easy to set-up Infolinks account and in minutes your ads will be displayed on different websites. It has biggest advertiser base among in-text advertisement networks. It rank your webpage for phrases and keywords not necessarily URL and converts them into advertising links, which are displayed on popular sites. Without much cost, you can earn some really good traffic to your website.
Twitter Ads: If you are not able to reach your audience on twitter, its Ad feature help you to get noticed by them. Twitter Ads are very helpful in reaching right people at right time. If your business needs a significant amount of traffic from mobile, Twitter Ads will help you to bring required impressions. It's Easy Set-up and excellent support team helps you to get possible B2B and B2C leads.
Pinterest Ads: If your Business deals with Fashion, Home décor, Retail Business, Online shopping, Fitness products, Household stuffs etc. then Pinterest Ads are worth investing. Pinterest is a very big platform that deals with images and graphics. Pinterest Ads are very easy to set-up and in lesser cost you could get high quality traffic to your site.
7search: 7search provide a high quality smaller niche websites. It has very low deposit of just $25 and you can start targeting for your website. It focuses on similar niche sites and keywords that you target and provide some decent traffic. If you have a less budget, now worries! You can try 7Search network.
Advertise.com: It is a huge network that delivers advertisement to 180 Million people and over 10 Billion ad impression per month. It also offers you choices like targeting based on search, intext, toolbar, mobile, content, interstitial, domain parking, email etc. You could also get huge traffic to your website in lesser cost.
Dynamicoxygen.com: Dynamic Oxygen allows you to reach prospected leads based on the recent search activity on popular Search Engines like Google, Bing, Yahoo etc. This Ad Networks allows showcasing your website on search results of major Search Engines. It can get you some high quality traffic.
Pulse 360: It has huge network of over 400 websites and claims over 200 Million impressions every day. They have variety of targeting options to reach your customers. You could also evaluate and optimize Ad campaign through various tools it provides. It helps you invest money for the demographic and interest targeting.
BuysellAds: BuysellAds is non-traditional Ad network. The thing that differentiates it with other Ad networks is: You will set the rates of Ad on their interface. The publisher set the bid and if you wish to buy that space BuysellAds team will send an email to publisher. They can Approve, Deny or Request change to the Ad. It will choose the best platform based on Alexa rank, Compete rank, Number of RSS subscriber.
Adknowledge: Adknowledge is a renowned Digital Advertising company and has headquartered in Missouri. They have Acquired Trivu Media, Giant Media and Adknowledge Asia to grow their network. This network helps its client to get amazing ROI through high quality Ad volumes.
Adblade: Adblade is considered as one of the safest and best advertising network in USA. They claim that they have nearly 600 Million unique global visitors per month. It only allows popular websites with minimum 500,000 unique visitors per month. The Adblade team itself reviews the publisher website before providing Adspace. You can choose Ad formats like half page, Display banner, News bullet, Mobile Ads and Video Ads, suitable for your business.
Although this network is a bit expensive than its competitors but quality and traffic you get from this network can't be compared with other networks.
Rocketfuel: Rocketfuel delivers high ROI in its advertisement campaign through Big Data and Artificial Intelligence. It focuses on data-driven marketing opportunities for marketers and companies. It provides its services to some of the reputed CRM platform, Marketing platforms and system integrators. The programming technology of Rocketfuel helps to reach your target based on demographics, Geographic, Keywords etc.
Adroll: Adroll is an advertising agency that offers retargeting and multi-device advertising display services to its clients. The company allow contextual and behavioral targeting built-in for Facebook, Twitter and other popular websites. This company also has transparent conversion tracking, self-service interface and excellent supporting staff to optimize retargeting.
Site Scout: It is Real Time Bidding platform, where you bid on a site and if you won the bid, your ads will be displayed instantly on the site. Demand side platform Site scout will get inventory from ad exchanges like Right media, Appnexus, Google Ad exchange, Pubmatic, OpenX etc. It is worth investing Advertising network if you have a decent amount of money.
Adengage: This platform had served over 1.2 Trillion ads till its foundation in 2004. In the beginning this network focused on small and medium websites but now it has Adspace on popular websites. Adengage segment the websites based on their category thus you can choose the best websites for Ad display.
EZanga: This Ad network will help you to get noticed by new visitors and niche markets, which are difficult to reach through search engines. EZanga uses an effective algorithm based on website content, relevancy and keywords to display your ads in front of users seeking for similar product and services. It provides targeting options of time of day, keyword, Niche, device etc. to reach the right people.
Kontera: Kontera is an Advertising network that focuses mainly on Inline and In-text Ads; apart they provide Videos, Image, rich media ads also. It has huge network of over 15000 quality websites. Some of the major companies like Microsoft and Kraft have been using its service to display their ads. Good customer service, easy account set-up and lots of targeting options help you to get good ROI.
SuperLinks: It has pricing policy of CPM i.e. Cost per thousand impressions rather than pay per Click. It has big range of both small and large publishers. It covers desktop and mobile blogs, Forums, Resource, News, and e-Commerce websites. It has inventory partners like Google Ad exchange, Appnexus and OpenX, which help your business to reach right audience.
InMobi: You have product and services having major portion of customers from mobile traffic then you should focus Mobile targeted Adnetworks. Inmobi is one of the biggest networks of mobile adverts that use interactive and wide experience to engage customers globally. It covers 1 Billion active monthly users and over 30000 publishers. It also helps you to track traffic, after click conversion through Ad tracker. Easy User-Interface and active feedback from the support team makes it distinct from other mobile Ad networks.
All the platforms mentioned above are popular and trusted among website and business owners. Each network has some downside associated with itself, so I recommend you to have self review on the company before investing money. After all you invest money on advertisement to receive good volume of quality traffic.
These networks will bring you traffic. It all depends on you, how you convert this traffic into customers? Conversion and consequently sales earn you money not the traffic.
Which platform you like the most? You have used any of the above listed platforms for ad campaigns? Do you have any feedback or suggestions for this post?
Share your views with me. Have a fantastic day!
Author Bio: 
Saurav is a full time blogger and the recently appointed moderator at AmplifyBlog