Search engine optimization is always getting updated by Google to push the internet towards their main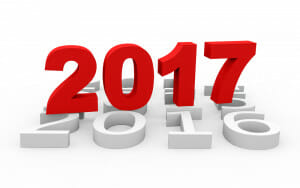 goal: improve the user experience web users have with websites online. With this in mind, here are three trends that should occur in 2017 that websites will naturally migrate too in order to improve the search rankings. After all, it is important to remember just how crucial SEO is to websites with the vast majority of websites getting upwards of 80% of all their traffic from organic search results.
#1 Longer Content = Better
When I first started blogging back in the stone ages of 2010, I remember websites telling me as a new blogger that, to get good SEO, you should write your articles at around 300 words long. If I told you this now, you would straight away click away from this article because you would know I'm talking rubbish!
The truth is that longer content is deemed better by Google because:
Longer content tends to go into more detail about the topic it is about
Longer content is easier for Google to crawl and helps Google get a better idea about what the content is about
If the content goes into more detail, web users are more likely to find the content useful and a good read
For this reason, if you want to develop a website with good SEO, the minimum article lengths you should be looking at is around 700 words, up to 2,000 words. I find if you have anything beyond 2,000 words, either web users will lose interest or you might need to start paginating your articles, for which many web users do not like.
#2 A Move to https:// Domination
Google a few years back stated that websites that have SSL certificates will start to get better SEO since they are establishing a secure connection with the web user, reducing any data sent between the website and the web user less prone to cyber leaks and attacks.
Although this is not directly improving the web users experience online, Google feels that from improving the safety of people browsing online, it is contributing to the overall user experience, hence why Google include SSL certificates as a factor in determining SEO.
When Google released this to the world, they stated at the time it will have a very small effect to SEO. But, as the years have gone by, the impact of https:// is increasing, in an attempt by Google to make it a norm for websites worldwide. For this reason, if you do not have an SSL certificate yet, be sure to get one for your website as soon as possible.
Ultimately, the main thing to think about with SEO is that the fundamentals to SEO have never changed over the years. In essence, good quality content will get ranked well on search engines because, at the end of the day, it is good quality content. But, if you want to increase your SEO that bit more, make sure to implement the above two points as well as make sure your website is doing the other SEO-musts, such as have a quick loading speed, mobile optimised version of the website etc.