2012 was a great year for pay per click advertising and it can only go one way in 2013 and that is forward. It is a great idea to give your campaign a head-start in PPC or a 'kick-start' to its year through implementing a few simple and effective tips into your campaign. In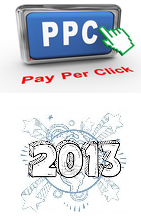 PPC, advertisers will rarely have to make any drastic changes to their PPC campaign: the element of improvement is through including tips and tricks into your campaign. Therefore, without further dew, here are two tips you can use to give your PPC campaign a head start in 2013.
Tip #1 – Don't Rush Into 2013
A problem many advertisers do (which mostly includes new advertisers) is that they rush into the new year with a half-ready campaign. However, from doing this, you will basically run extremely efficiently because:
Your keywords may not match your target market. Therefore, you are attracting the wrong type of people to your landing page
Your CPC may be too high or too low. Having it too high means you are overbidding for clicks that are not actually worth much. Underbidding means you will find it difficult gaining impressions on websites and when you do gain impressions, they will be on low quality websites.
You most likely have not optimised your landing page for PPC. Remember that your landing page will significantly affect the number of conversions your campaign successfully gets.
Already, I have listed three drawbacks to rushing into PPC. The tendency is that because it is the new year, advertisers will rush to get things up and running fast for the new year. Do not do this. If it takes you a month to create a great PPC campaign, then let it take a month! You will make much more money throughout the whole year from using a month of time to create a great PPC campaign rather than to spend a few days on creating a PPC campaign in order to get it running as soon as possible.
Tip #2 – Record Your Performance Every Month
Out of every tip I have ever giving out about pay per click advertising, this has to be, by far, the most useful tip that all PPC advertisers should use. The best way to improve a campaign is by looking at previous statistics first. Although you can already do this within Adwords, you could make a more analytical approach to your statistics through recording them down every month and annotating them. For my website, AskWillOnline.com, I publish my all of my website's statistics as an article each month. As much as it benefits the nosy web users out there, it is more beneficial for me because I can see where Ask Will Online has been performing well this month and where it has been performing badly. I can then look to improve upon the bad areas of my website which has been the bounce rate for a few months now!
From this, I hope it makes clear that when entering January and the new year, do not rush your campaign and make sure that once you have got it up and running, record its statistics and comment about them too. Creating a database of the previous records of your campaign will turn out more useful to you and your campaign than you think.