The last article to have last been analysed in the 'Analyse A Real PPC Campaign' was Tunecore, who turned out to have targeted their whole campaign wrong since they were targeting music distribution whereas the search phrase was aimed at purchasing music online. In this article, I was going to do the typical structured analysis I have done for the majority of my analysis. However, upon seeing each of the landing pages for the search phrase 'buy summer clothing', each have a mistake in them that needs addressing to you folks so you can learn the from the mistakes of actual PPC campaigns.
To view the adverts from Marks and Spencer (M&S), Made In Europe and JollyChic, I had to type into Google search UK, 'buy summer clothing':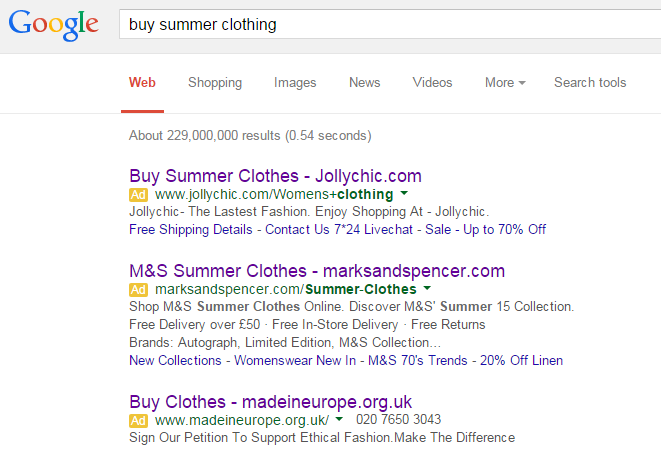 I could go into detail with each of the adverts. However, that could probably wait another day. What a campaign must do always is address the search phrase. Therefore, without even looking at the search adverts, the landing pages should address the web user by having something to do with summer clothing that he or she can potentially purchase. Below are each of the landing pages for the above adverts with the main mistake they have each made.
JollyChic
The landing page looks well designed etc. However, what JollyChic have failed to recognise is the market they are promoting this landing page to. I am specifically from the UK and searched using Google's UK search engine. Therefore, to show a landing page where the currency is in dollars will cause the whole campaign to fail badly. Make sure you know where your target market's location is!
Made In Europe
Hopefully it is clear why this is a poor landing page and campaign. The web users wants to buy summer clothing: not support the workers' rights! If the web user wanted to support a clothing charity, that is what they would have searched for. I understand they might be possibly trying to lure people over who could potentially donate. But, what hurts the most is that they lied. The advert claimed you can 'buy clothes' which is evident that you cannot. False economy.
Marks and Spencer
With this landing page, M&S have presumed straight away that the traffic is female. There are two points I would like to make about this landing page:
The search phrase is unisex. It neither directly applies to just women or men. Therefore, the campaign should accommodate this so it can accommodate both sexes. By landing both sexes onto just a women section will turn men off using M&S as it will make it seem that female clothing has priority over male clothing.
M&S may have looked at the analytics of their traffic and found 'X'% of the traffic is women and therefore changed the landing page to accommodate this. However, you cannot stop men from reaching this landing page which is why it should land onto a page such as a click through page that directs the traffic into men and women sections of the website.