The last PPC campaign I analysed in the 'Analyse A Real PPC Campaign' series came from Plus500, who had a good search advert on the whole but lacked a landing page with a clear objective (the button to click onto on the click through page was not as attention seeking and best located as it could have been). With virtual reality seemingly going to be the 'next big thing' for the video game industry, I thought it would be a good idea to analyse a campaign from this new emerging market. Therefore, without further ado, here is an analysis of a PPC campaign by Samsung advertising their Gear VR.
To view Samsung's PPC search advert, I had to type into Google search UK, 'buy virtual reality headset':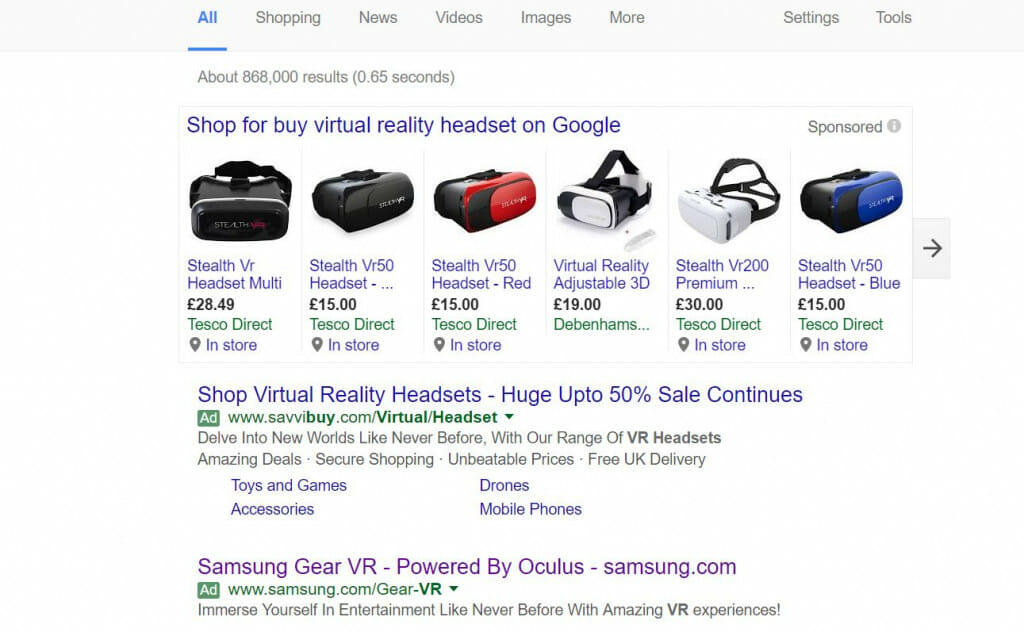 Straight away, this is going to be tough competition for Samsung that are promoting their premium virtual reality headset – Google shopping is littered with virtual reality headsets which enable people to turn their smartphones into a VR headset – Gear VR is the same as this but done, well, better. Web users are price sensitive so Samsung will have to wow web users in order to win them over the higher priced Gear VR.
Looking at the advert itself, it is a great advert that is deliberately vague to arouse the interest of the web user into clicking onto the advert. The lack of ad extensions supports this with the description simply stating that the web user would enjoy it thoroughly.
The title is also very good, clearly addressing what the web user searched and also mentions two brand names which are likely to get the attention of those web users that are interested in virtual reality: Oculus and Samsung. Put together, it is another reason by itself to click onto the advert.
The only downside to this advert, though, is the location of it. From ranking lowest of paid search results, Samsung should not expect to get as good as a click through rate as they would have got if they were ranked number one for paid search results.
After clicking on the above advert, I came to the following landing page:
It clear straight away from landing onto this page that this is a product page, with the aim of promoting the Samsung Gear VR as well as giving the web user the option to purchase it too. The landing page has the following points associated to it:
There is a share button which will help get web users to promote the page socially, gaining extra traffic for free.
The page is clean and has a slideshow for the VR headset – it is simple enough that the web user should inherently know that to get more information about this, they will need to scroll down the page, which does show more information.
The page has a floating menu which contains features, tech specs, reviews, support, more and a button to add the Gear VR to the web user's basket. This is great since it allows a conversion to take place (being a purchase) no matter how far up or down the web user is scrolled on the landing page.
Will created AskWillOnline.com back in 2010 to help students revise and bloggers make money developing himself into an expert in PPC, blogging SEO, and online marketing. He now runs others websites such as Poem Analysis, Book Analysis, Ocean and Beyond, and RestoringMamods.com. You can follow him @willGreeny.