Many people are resorting to careers online to make their daily livings for many reasons. Not only does the internet allow you to do whatever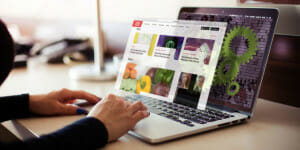 it is that you have a passion in, the sky is the limit as to how much you could earn. You never know, that website idea you had, or that article you had, might be more popular than you can ever imagine, giving you the possibility to make an income from it (and a healthy one at that too).
However, the problem many people also have is finding what to talk about online, how to find their niche and how to actually make a successful revenue generating website. For this reason, here is a story of how I ended up making a successful website, so you can follow suite to do something similar for yourself.
#1 Blog about Everything and Anything You Like
The first step to starting your online career is to find what you have a passion for, and take a hold of it. There is nothing worse than blogging about something that you have no interest in. It will become a chore rather than a job and, after a while, you will naturally lose motivation to do any work associated to that topic.
So when I first started blogging, I blogged about everything and anything that I liked. This included:
Football
Technology
Formula One
Automotive Engineering
Books
Poems
Music
School subjects, for revision purposes for exams
Literally everything and anything! This is how AskWillOnline.com was formed.
#2 Analyse the Stats
When you have solidified a website with topics that you enjoy writing about, do not look at the statistics behind the articles for at least a few months! You need to let your passion flow naturally for whatever you want to talk about – that is the most important thing.
After a few months, then you should look at the statistics, namely:
Post traffic – what post gains the most traffic?

Is this because of the topic (will be the case if similar articles gain lots of traffic too)
Is it because of the length of the article?
Is it because of how you structured the article?

What gains the least amount of traffic and why is this the case?
What type of traffic sources are your posts generating?
Most importantly is what topic is gaining the most traffic. Coming back to my story, I found that a lot of the articles gained good traffic. But, I found out the following information for each topic (and could only do this by writing content on that topic and analysing the statistics behind them each):
Football – a very saturated market, where opinions don't gain high SEO
Technology – another saturated market, where content goes out of date very quickly
Formula One – niche website, where most people don't really read about races after they happen
Automotive Engineering – a very niche topic, but ranked highly
Books – gained good traffic, but took a while to make the content (due to reading the book)
Poems – gained high traffic with high SEO
Music – too opinionated and had too much competition
School subjects, for revision purposes for exams – was good traffic but not enjoyable consistently enough
From this, I found that poetry analysis was gaining the most traffic for my time. For this reason, I created PoemAnalysis.com which is now the largest database of poetry analysis on the internet!
So give it a go – write about lots of topics, then analyse the results. Naturally, it will tell you where your career path will take you online.