Google has not been the biggest supporter of WordPress, it seems. After all, since WordPress was created back in 2003, there has not been much development by Google to support this open platform….until now.
Google have recently just released an official plugin for WordPress websites, to utilise the power Google offers, in terms of data analytics and integration. Here is a summary of Google's Site Kit and what it means for WordPress websites.
Google Site Kit – Better Google Integration with WordPress
There are some great features about Site Kit, highlighted below:
All of Google's website products in one place – before, you would have to install different third party plugins, or use Google websites, to access the data of Google. Now, Google includes Search Console, Analytics, PageSpeed Insights and AdSense all in one place for you to view, direct from a WordPress dashboard.
Site Kit is extremely easy to set up, and uses minimal hosting power to run it (should not affect your website's loading time).
Up to date statistics.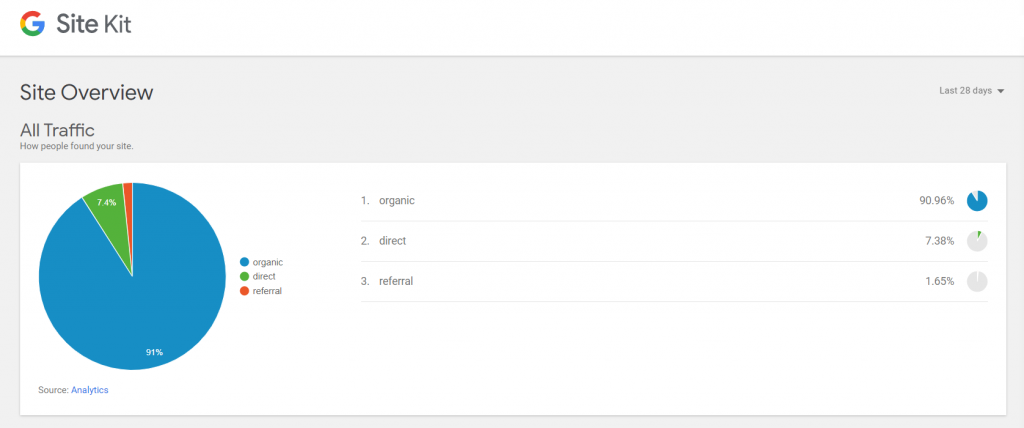 Site Kit – Should You Install?
Quite simply, yes. The main benefit I see of Site Kit is the fact that it offers four products in one.
Typically, to get Search Console, Analytics, PageSpeed Insights and Adsense, you would have to upload 3-4 separate pieces of script code onto your website, so that each of the respective products, or install plugins for each to do this.
This plugin allows it to be done all in one.
This means, instead of having four separate pieces of code on your website, or using four different third party plugins to achieve this, you are using one plugin, officially made by Google. For this reason, I would highly recommend you ditch whatever you was using for Search Console integration, Analytics and Adsense and go straight to Site Kit.
I think it is a great idea to have Site Kit appear on your dashboard too, since it holds key data to your website. Does it replace Search Console's actual website or Google Analytics' actual website? Unfortunately not – it only appears Site Links gives a med-high level look into your statistics. But, if you want to dive deeper, it would be best to go to each respective website.
In essence, I think the biggest gains with this will be through the speed of removing 3-4 third party plugins, that use to achieve the same functionality as the official Google plugin, What more, the fact that Site Kit includes PageSpeed Insights will give WordPress website owners even more incentive to reduce the loading times of their websites.