Back in 2011, Google started testing an ad extension, which would allow searchers to submit their email address to advertisers directly from the SERP. This is especially helpful for those advertisers looking to build their email list, but it's also excellent for lead gen & other services.
They called the AdWords email extension "The Communication Extension." Here are a few examples of the extension in action: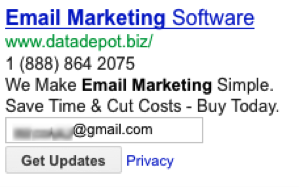 The draw for advertisers? When someone submits her email address, the advertiser is only charged for a click. Imagine skipping the middle of the funnel, and paying the same amount for conversions as you do for clicks. Your CTR becomes your conversion rate! Oh the thought makes my mouth water…
At any rate, Google continued to improve the extension with small changes, like allowing phone numbers to be submitted, as well as email addresses.
Enough With Info – Get Me Started!
Before you go guns-a-blazin' into your AdWords account to enable the communication extension, you should know that it's still currently in private beta. That means you have to ask your Google rep to get it enabled on your account. You likely need to have a significant amount of spend for them to consider your account. It can't hurt to ask, but you should be aware of potential obstacles.
Your rep will go back to his team and request the ability to enable the extension. He or she will return within a few days with a yea/nay decision. If the decision is in your favor, this will be the process:
The rep will gather some information from you. This will include a Google email address to send the nightly list of email addresses and phone numbers. They come in the form of a Google doc that gets updated daily. (The doc cannot be shared with others, so make sure you have easy access to the Google account it's shared with).
He then whitelists your account to the extension. This took one day for me.
Next you'll receive an agreement to which you'll need to reply to the email with 'I Agree' to their terms of service. Mostly privacy stuff.
Once that information gets submitted, it takes a few days to get it implemented on the account. Once you start receiving emails, you'll start getting a nightly email.
My rep told me to expect CPCs to increase slightly to make up for the additional real estate that the extension takes up. Also, Google controls when and how the extension shows up, so don't expect a sudden, massive influx of leads.
What Will I See?
When you log into your account, what will you see? In a word, very little. Click on the 'Ad Extensions' tab and you won't see any sign it's enabled.
So how do you see the stats? Under the 'Campaigns' tab, click 'Segment' and then select 'Click Type'. That will break the campaign out into Headline and Email Subscription (or Phone Request, as the case may be).  Here's an example of what it will look like (data blurred to protect the innocent and unborn, obviously):
Then when you receive your nightly email, here's an example of what you'll see in your Google doc:
So, that's that! Remember that AdWords reps have limited experience with this extension, so walk through these steps with your rep and make sure he completes all of the required steps. Otherwise, you may be wondering why you aren't getting emails, and have no interface to confirm that it's working.
Leave your experiences in the comments about the communication extension.
About the Author:
AJ Wilcox is the Online Marketing Manager for Domo, a SaaS Business Intelligence product that combines all your data sources into one simple dashboard for easy analysis. He loves online marketing and has been doing PPC for 6 years. He loves running and exotic cars, and spending time with his wife and kids.