The last PPC campaign I analysed in the 'Analyse A Real PPC Campaign' series was from Media.net, who had bid for a competitor brand name in order to take traffic away from them, as well as gain contextual traffic from Google search. The landing page was a great example of a lead capture page, being clear in the conversion and aesthetically appealing to look at.
In this article, we would be looking at the sporting market for merchandise from one of the largest football (soccer) teams in the world. With this, here is an analysis of a PPC campaign from Adidas.
To view Adidas' PPC search advert, I had to type into Google search UK, 'man u merchandise':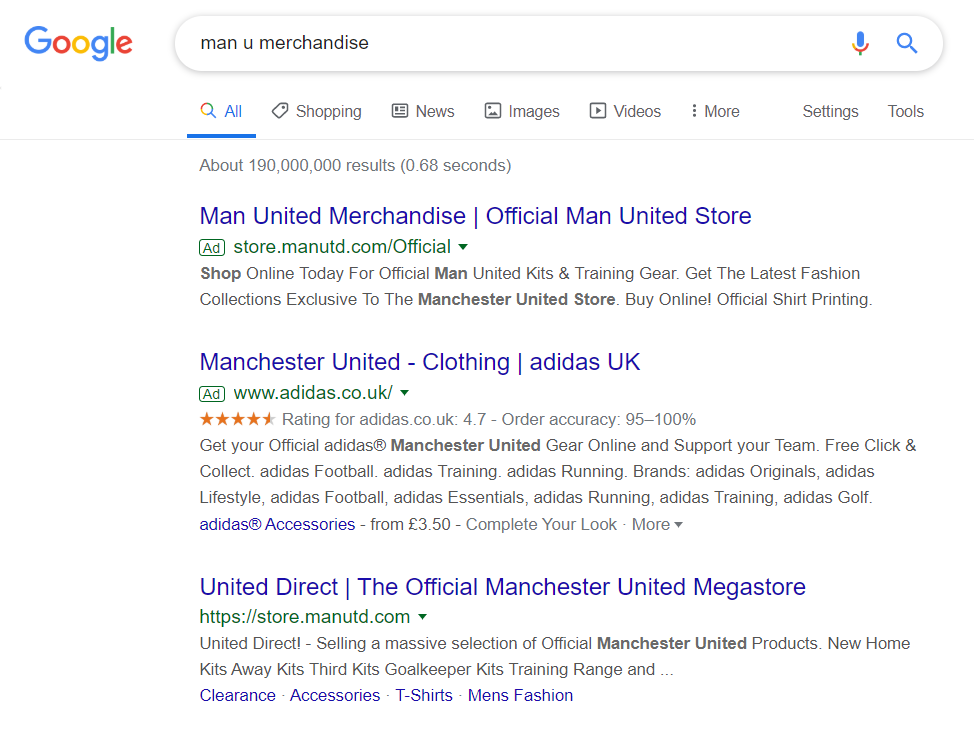 Although there is a PPC campaign for Manchester United's official store, it is the second advert from Adidas that we will be looking at. It's interesting Adidas have bid for this keyword search phrase, considering the fact that Adidas would make money anyway when any clothing is sold on Manchester United's store or not. Saying this, there are potentially two reasons for bidding for this search phrase:
Manchester United would most likely cut into the profit margin if sold through their store, so Adidas might have a larger profit margin if people buy Man Utd clothing from them directly.
The Man Utd store will have items for sale that won't be made by Adidas, such as mugs, cutlery, stationary etc. – by bidding for this search phrase, Adidas are preventing people from the possibility of being non-Adidas merchandise on the Man Utd website.
Looking at the advert itself, it's almost purposefully similar to the official Man Utd search advert. The main difference comes with the addition of the ratings extension, which helps to differentiate Adidas' advert in a good way. The rating is high, with a high order accuracy too. This would help to entice web users into clicking on Adidas' advert over Man Utd's.
After clicking on the above advert, I came to the following landing page:
As a landing page goes, this is an example of a product/service page. It has pros and cons associated to it, highlighted below:
It is good that the clothing range is showing, in a scrollable format. However, it is quite difficult to filter down from this level of filtration what type of clothing the web user wants to buy. This means that the web user will have to scroll indefinitely to find what they are looking for, which might cause the web user to lose interest. There are some extra filters, but they are not the easiest to use or easy to filter by type of clothing.
The menu of Adidas' is extremely well designed, enabling the web user to pretty much get access to any part of the website within one click (after hovering).
Manchester United is known for being associated with the colour red. Too have black as the main colour on this website makes this website seem less Manchester United and more corporate – it would have been a good idea to have tinted the whole website with red for Manchester United related pages.